You take the red pill and you'll know all the truth about how to develop a fintech app. You choose the blue pill, the article ends, and you wake up in your bed without a solution you've always dreamed of. Neo from The Matrix chose the former and that's how the best "neobank" was created (pun intended). 
Jokes aside, if you're ready to embrace the uncertainty that fintech startups face daily and make a real difference in the financial world, you need to be armed with the right business model and effective strategies to combat all challenges along the way. 
The JatApp team would like to share with you some examples of inspiring startups and best practices to make your journey smooth and without taking any pills.  
Common fintech business models
When building a fintech app, the first step you need to take is to come up with the right business model. Let's take a moment to discuss FinTech business models that are the most popular today. 
Payment gateway
Payment gateways refer to platforms that allow shoppers to pay for a service or product on a website. Users may pay with credit cards, debit cards, digital wallets, and even cryptocurrencies. More often than not, banks have large commissions to complete transactions, and this is when fintech startups come into play. Fintech companies develop payment gateway for digital merchants to integrate into their platforms and charge their customers without huge fees for a transaction. 
One of our clients, a company that builds software-as-a-service (SaaS) applications, wanted to build its own payment gateway to cut down the costs on payment integrations. As the company didn't have experience in creating such solutions, they turned to us for help.
We assisted in developing a Payment Card Industry Data Security Standard (PCI DSS) compliant application that enables users to make secure payments with their debit and credit cards. The solution helped not only to eliminate exchange rate commissions for international clients, but also optimize card acceptance rates. 
Payment gateway functionality

Neobanks
A neobank is a type of bank that doesn't have any physical branches and delivers online financial services only. Neobanks are fintech companies that provide its tech-savvy customers with services, such as money lending, money transferring, online payments, and more. It's worth mentioning that they don't have their own bank license and have to rely on traditional bank partners to deliver licensed services. 
As an example, Zywa is a neobank from the United Arab Emirates. The digital banking app appeals mainly to the generation Z (people aged 11-25 years old), as it enables them to receive money and make payments without borrowing parents' cards. The solution makes life easier for parents too, as it allows them to send money to their children and track their expenses and saving habits. 
Zywa app functionality
The most intriguing feature, however, is rewarding users for healthy financial habits with Zywa gems and Zywa coins. Kids can use these rewards to buy products at the partner stores or make peer-to-peer transfers. The company earns through brand partnerships and from card interchange revenue. 
Zywa also plans to add a social element to its solution by letting its users share videos and photos of their purchases and respond to their friends' purchases. A perfect fintech feature for young Jay-Zs who want to show off their new golden chain.
Personal finances
Personal finance solutions link users' bank accounts helping them to keep track of their spending. These applications typically allow people to figure out in which categories they spend most, monitor their credit scores, pay their bills, and view all the payments. 
Payroll apps are an on-point example of the personal finances business model. One of our clients, a financial company, asked us to build a payroll solution, so that their employees could stay informed about their incomes. The app we developed allows workers to access their payroll history, view their net salaries for a certain period, as well as download related financial documents. Employees can also access their annual financial records, which helps a lot when it comes to analyzing income throughout the year. 
Payroll app functionality

Some personal finance apps allow users to split the bills without any hassle. Splitzy, our other client, reached out to us to create a mobile app for splitting bills to help friends feel less awkward once they finished their meals at the restaurant, or roommates to be less stressed out, figuring out who owes who. Rather than bringing up such a sensitive topic as money, users can simply select people from their friends list, so that the latter will get a reminder to make a payment. 
Splitzy also invites users to save groups for those friends they usually hang out with. Friends may also set a percentage for each person, if they need to make unequal payments.  
Splitzy app functionality
Investment
With a few taps on their smartphones, people can now start investing in stocks and build their wealth on the go. Newcomers may start small by buying fractional shares through an app like Shares, which allows users to invest as little as £1.00. Beginners may want to receive financial advice from robo-advisors, which, by the way, gain momentum in the fintech market.
Shares app functionality
Teenagers are likely to appreciate apps like Stockpile, which allow them to purchase and sell stocks and build portfolios of their dreams. Once kids choose the stock, mom and dad can log-in to approve their trade. Such apps teach teens to save their money by making investing less intimidating. Stockpile makes money from a paid membership service. 
Stockpile app functionality
Crowdfunding
Crowdfunding means raising money to support institutions or projects. To facilitate project funding, a smaller sum of money is collected from a larger audience. Crowdfunding apps help users gather the required amount of money much quicker, as they no longer depend on one investor only. 
Take GoFundMe as an example. People can raise money for personal needs, ranging from keeping their business afloat to paying for healthcare expenses. All they need to do is to tell a story, add a video or a photo, and share it with friends on social media. Besides, users can monitor their donations and thank donors. 
A huge benefit of this platform is that it's free-free for its users. The company earns profit through a processing fee, which is $0.30 and 2.9% for a transaction.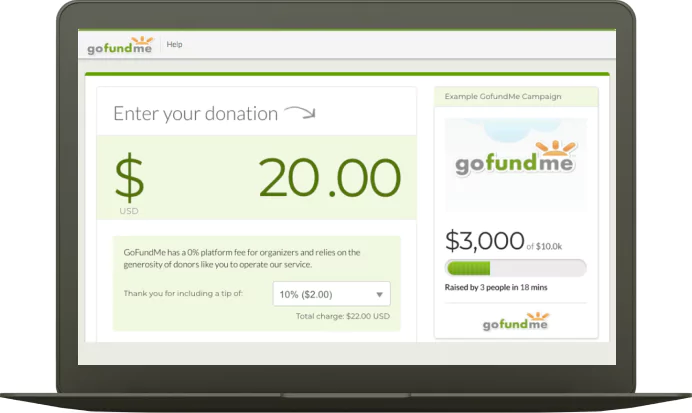 GoFundMe app functionality
Cryptocurrency trading
Crypto trading platforms enable users to speculate on the price changes of cryptocurrencies. You've probably heard of Bitcoin, a cryptocurrency that has made a lot of fuss with its staggering price leaps and dramatic falls in value. Bitcoin, like basically any other cryptocurrency, is connected to blockchain, which allows users to move away from government-issued fiat currencies. 
Meet Coinbase. With this cryptocurrency trading platform users can buy and sell different digital currencies and monitor them in one place. One of the most exciting features is that the solution lets investors schedule their buys on a daily, weekly or monthly basis. Add to this the fact that users can store their funds in a vault, so that they won't be tempted to withdraw their money to buy a new iPhone as soon as it comes out. Coinbase charges a fee for each trade and for converting to fiat currency. 
Coinbase app functionality
Regtech
Regtech, or regulatory technology, is a solution that helps to improve regulatory processes while decreasing legal risks and compliance time. In other words, with regtech apps businesses can meet regulatory requirements with ease by automating them.
Chainalysis is a good example of such a solution. It's a blockchain-based application that enhances companies' compliance and risk management with the goal to prevent fraud, compliance violations, and money laundering in the cryptocurrency industry. It has assisted many digital payment companies in confirming Bitcoin transactions and meeting federal regulations. 
Chainalysis app functionality
Major challenges in the fintech industry
Challenges make your road from the point A (the idea of your fintech application) to the point B (successful product launch) bumpy and full of unexpected twists and turns. But don't get scared now. These challenges can actually turn into opportunities that will take your business to the next level.
One of the biggest challenges with fintech solutions is to make complex financial terms and processes accessible to an average Joe. UX-wise, the major task is to reduce friction in the user flow. Friction is anything that prevents a user from completing their goal. 
A messy interface, unnecessary steps, or unclear guidelines are all examples of friction. However, some friction can be necessary in certain situations. For example, a warning message or multi-factor authentication helps users avoid mistakes that can cost them a lot of money. That's why a fintech app with a good UX should be easy-to-use, yet safe for its users. 
A user-friendly UX of a secure neobank
Protecting sensitive data
With cyber attacks becoming more sophisticated and varied, it's becoming more difficult to protect users' sensitive information. The lack of cybersecurity professionals only aggravates the existing problem. The recent evidence shows that nearly half of companies report the shortage of seasoned security staff. 
The lack of professionals in this sector is a real deal, as it can ruin business reputation and erode users' trust. To prevent this from happening, you need to encrypt your data using in-transit and at-storage protocols. This way, hackers won't be able to use your data, even if they managed to steal it. 
Complying with regulations
In many countries, like the United States, there's no single law that addresses the fintech sector, which makes local fintech startupers wake up in a cold sweat now and then. Therefore, when building a fintech app, you may need to comply with lots of regulations, such as: 
Payment Card Industry Data Security Standard (

PCI DSS)

Know Your Customer (KYC)

Counter-Terrorism Financing (

CTF)

Anti Money Laundering (AML)
Depending on the app you're building, you may need to follow other data privacy and data protection regulations as well. 
The challenges don't end here, however. If you want to deploy your solution in different states or countries, be ready to deal with conflicting and sometimes even vague regulations. Take cryptocurrency trading platforms, for example. If you decide to deploy such an app, say, in Morocco, where there's a full ban on crypto, you'll need to change the core idea of your solution to comply with local laws. 
Hiring a good lawyer before a project kick-off can be a smart move. Choose a consultant that has an expertise in the fintech industry and you're pretty much done with all your legal concerns. 
As an alternative, you may invest in regtech applications we mentioned earlier. This is a good idea, even if you're developing a regtech solution yourself. It's like when a psychotherapist turns to another psychotherapist for help. If you're building a regtech app for cryptocurrency trading platforms, you'll still need a tool that can streamline the process of compliance for your regtech business. 
An example of a regtech solution, an identity verification platform
What to consider when building a fintech app
Statistics show that 75% of venture-backed startups fail to get to their tenth anniversary. We need to face the truth – the fintech industry is merciless to newcomers. Any serious mistake can be a death sentence to your business. Not to get to the RIP list, we've gathered some tips and tricks that will help you get your project off to a good start. 
Find your niche
Today, some biggest fintech players position themselves towards the broader audience, obviously with a focus on the tech-savvy millennials and generation Z. Meanwhile, some smaller startups concentrate more on specific segments, like certain professions (content creators, lawyers, healthcare providers, to name a few), older adults (Longevity Bank), women (First Women's Bank, LadyBank), and so on. Fintech companies that offer services to a specific client group are usually more prepared to face industry challenges and remain profitable. Targeting a concrete niche gives them a stronger selling point, which helps to stand out from other faceless businesses.
LadyBank app functionality
Opt for partnering with banks 
Cooperation between banks and fintech startups is a win-win for both parties. The former always need sources of non-interest income, while the latter want to start generating profits. Fintech companies offer banks services that would take them many years to build. At the same time, banks assist fintechs in improving their distribution channels and cutting down associated costs. But unfortunately, banks disregard such an opportunity too often, considering it not worth pursuing.
Hire an experienced fintech
development team
Fintech solutions are not easy by nature and rely on different technologies on the back- and front-end. Building a fully-functional solution requires united efforts of many specialists: talented software developers, seasoned project managers, creative UX designers, and others. You'll also need quality assurance specialists at each development stage to meet all security standards. 
JatApp can offer you a team that specializes in fintech software development to help you develop your app from scratch. Our teams have completed more than 200 projects, many of which were fintech solutions. What's more, if you don't want to say good-bye to our experts after a year of cooperation, you can always hire them in-house to make them a part of your team. 
We'll help you conquer the fintech world 
To succeed in the complex fintech industry, there's no secret sauce or magic wand that would turn your beloved dream into a well-established neobank with millions of clients. That's why you need to have some sports excitement and be ready for a number of challenges along your way. Beyond all that, you should find your niche based on thorough business analysis, consider partnering with banks, and, of course, wisely choose a team for your project.
JatApp can help you create a fintech app with a convenient UX that your customers would love. For seven years in business, we've received many positive reviews and managed to earn a 4.9 rating on Clutch.
If you want us to join this ride, don't hesitate to press this contact us button now.