One of the most disturbing statistics for startupers is that 90% of people leave a site only because of poor design. What's more, 70% of online businesses fail due to ineffective user experience (UX). The good news is that if you manage to create an appealing interface and easy navigation, you can gain a competitive edge and beat your rivals. Your users would not only want to come back to your solution but also tell their friends about it. 
The JatApp team has created a step-by-step guide to help you build an alluring app design. We'll walk you through the process of user interface (UI) and UX design creation using our company's approach as an example. 
1. Coming up with an
app idea 
When it comes to UI/UX, the very first thing you need to do is to think about why you're designing an app and what goals you want to accomplish. To get your ducks in a row, you may also want to find answers to the following questions: 
What exactly will your application offer to your users? 

How will you attract your customers with your product?

What are the user's pain points that your app will address?

Why would your target customers opt for your solution instead of the one offered by your competitors?

What makes your solution unique?
Our UI/UX designers usually ask such questions to create a sort of guidance that will keep them on track with the project goals. Our team uses it as a reference when brainstorming new functionalities or reflecting on a product's unique selling point. 
Design stages from ideation to launch
2. Collecting quantitative and qualitative data
The next step is to do comprehensive research and figure out how you can compete in the market. You'll need both qualitative and quantitative data to get the full picture of your target audience, rivals, and industry in general. 
Quantitative data
At JatApp, we use Google Analytics to visualize the client's target audience. With this tool, we can readily identify such things as customers' gender, financial status, demographics, and similar. This information is vital for understanding users' preferences and needs, as well as predicting their buying choices.
The use of Google Analytics in quantitative research
Qualitative data
If we sadly lack quantitative data related to your end users, we narrow-focus our attention on your project. More specifically, we're getting to know your niche and area of expertise. If possible, it's important to contact the company's technical support to understand what type of customers are reaching out to you and what kind of help they are asking for. 
Conducting an interview with a client could serve as a good start for qualitative research, too. Our designers typically want to learn more about your brand, its mission and vision. At this stage, they also aim to understand whether there's strong brand awareness among the target audience. If the answer is yes, our team, as a rule, will try to incorporate the company's style when designing a new solution. 
One of the most important steps here is to look at your competitors. There are three types of rivals you might worry about: direct, indirect, and replacement competitors. 
If you're a bank, for example, your direct competitor will be another bank. An example of an indirect competitor is an online bank, a business that offers similar services but is driven with different revenue goals. Meanwhile, replacement competitors deliver an alternative service to the same target audience. For instance, a replacement rival of a bank is a credit union. The JatApp team gathers all relevant information related to these competitors, from their interface elements to unique features.
3. Structuring research findings
Now, we need to structure the data gathered during the previous stage, so that we can clearly see how we're going to implement the project. First, designers should develop a user persona, a fictional character that represents your ideal client. This helps to create a design that is both appealing and convenient to the target audience. 
For example, when we were building Pre-Quest, an online test preparation platform, the user persona was a Chinese student of 6-7th grades. As children tend to have short attention spans, it was vital to incorporate colorful and bright illustrations of cute animals to keep them engaged and motivated during their lessons. Moreover, we incorporated the image of a panda, a Chinese symbol of friendship, to increase users' interest and excitement. Unsurprisingly, 100% of users received interview invitations from the schools of their choice.  
Pre-Quest UI/UX design
After identifying a user persona, the design team performs the competitor's analysis by assessing strengths and weaknesses of the client's rivals. In other words, we pay attention to what end users like about competitors' solutions and what's missing from their products, so that we know what we can introduce into our own solution. Based on these findings, we create mood board references that offer compelling design ideas borrowed from competitors. It's worth noting that these references should be stylistically aligned with the client's brand identity.
4. Creating the logic of user interactions
Once we have all the necessary data, we can create a user flow by jotting down every user's movement through a solution. To be more specific, a user flow is the journey on an application or a website that a user takes to complete a task, from an entry point to the last interaction with the product. 
Using the text notes from a user flow, a design team builds wireframes for an app. A wireframe presents a visual outline of how a solution should be working and what pages and features are necessary. At JatApp, we use a design tool called Figma for developing wireframes.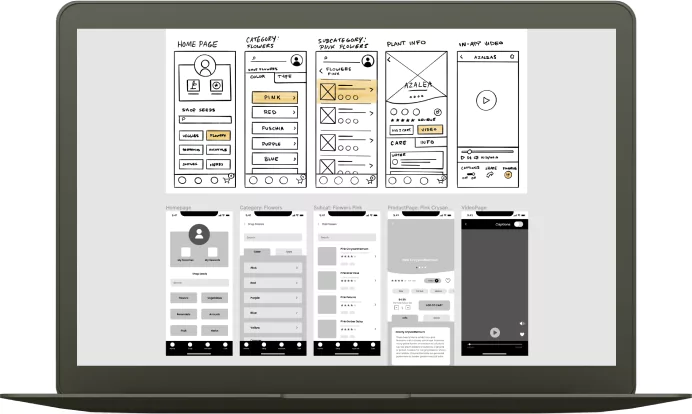 Creating wireframes in Figma
Designers may also ask other team members to evaluate the wireframes to see whether the navigation and structure of a solution are solid and user-friendly. Once UI/UX designers are satisfied with their wireframes, it's time to plan specific tasks for implementing the project. 
5. Prototyping and testing
Prototyping is the next stage of the application design process. We use prototypes to imitate the design of our future product and user interactions with it. We typically utilize either Figma or Adobe HD to turn app designs into interactive prototypes.
Prototyping in Figma
Our team also shows these prototypes to users to see whether all UI/UX elements make sense to them. Designers rearrange layout and screens, if users have a hard time navigating through the solution. And then, everything is tested all over again.
6. Building a design system
To build a design system, your team may take into account your corporate style or request a brand book. This is particularly important if your customers can easily recognize and remember your product.
Alternatively, if you're a relatively new brand, you may want to explore the competitors' style in search of inspiration. Use Dribble or Behance to find references that are in line with your company's aesthetics. 
Using Behance for design inspiration                                                        
7. Creating app visual design and testing
Now that you have decent prototypes and a design system, your team may start designing your application. Figma is one of the best tools in this regard. This solution enables team members to effectively collaborate with each other, as well as drop comments for instant feedback. 
Figma comments feature
Once you're done with designing your app, it's important to conduct user testing once again. If the design team is satisfied with the results, the app is ready to be handed over to software engineers.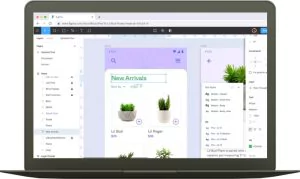 Drawing an app in Figma
8. Handing over the project to developers 
The work of UI/UX designers doesn't end with the previous stage. As a common practice, they have to supervise the work of both frontend and backend developers. In other words, designers make sure that all features are working properly and UI design elements are implemented as planned. 
Developers, in their turn, also evaluate the app design and provide their feedback. If everything is alright, designers are free to get down to new projects. 
An example of developers' feedback in Figma
9. Requesting client's feedback in six months 
In half a year, our designers ask for the client's feedback to check whether they're happy with the solution. If there are some problems with the application, the main challenge is to understand the root causes. Therefore, we may want to know at what point a user leaves your site or app, and try to figure out why exactly this might happen. 
If the problem lies in the design, the team may need to make some changes in the functionality, visual or structural elements. Then, we usually perform A/B testing, a type of user testing that presupposes dividing users into groups and evaluating different versions of an app. For instance, we may opt for this testing to assess the effectiveness of a Call to Action (CTA) button. By changing the wording in the CTA, we can understand which option leads to more conversions and clicks.
A/B testing example
Bottom line
A poor UI/UX app design may literally ruin your app, so you can end up losing all of your customers. On the contrary, a stunning design can give you a strong competitive advantage, making users excited about your product or service. To make sure you succeed with your solution, you'll need a team of talented and experienced UI/UX designers. 
At JatApp, designers have a decade-long experience in building apps for all platforms. Compared to other software agencies, we stand apart with:
the access to top web designers, according to

UpCity

;

our best practices with the most innovative technologies and tools;

detailed analysis of user interactions with the solution and niche research;

our iterative approach in

UI/UX design process

that saves your time and costs;

support after the product release based on key performance indicators (KPIs), business outcomes, and

user feedback

.
If you have any questions, don't hesitate to contact us and we'll come back to you as soon as possible.