With adoption of the Green Deal, Europe has taken an ambitious step towards becoming the first carbon-neutral continent by 2050. A well-known European economic stability and policy-making welcoming any sustainable initiatives make the plan seem to be long-term yet feasible. But the late 2021 turned out to be the beginning of Europe's energy crisis. According to Bloomberg, the energy prices have grown by 7% in six months.
For that reason, governments and venture capitalists turn their heads towards clean energy technology (cleantech) startups as a viable alternative. Investment in innovative solutions for energy efficiency is a somewhat bold, but effective course of action. Funding high-impact cleantech projects will mitigate the risks of price increase in three years with 40% of cost savings, while payback period for these startups won't be more than a year.
That's a general explanation why cleantech companies are a better choice for Europe's energy sector. And in this blog post, JatApp team will shed some light on why and how tech companies can help fight Europe energy crisis and bring the global energy industry to a new level.  
How did the crisis happen? 
A massive reopening of businesses after a series of COVID-19 lockdowns was apparently unexpected for the European Union. The governments were not ready to meet a rising energy demand and failed to be proactive enough to avoid a surge in energy prices.
With Russia's invasion of Ukraine, the EU appears even in a more difficult spot. European governments announced a reduction of Russian oil and gas imports by two thirds in the next nine months as a part of economic sanctions against Russian military aggression. However, Europe needs a robust substitution for 45% of gas totally consumed by the EU member states, while finding one within such a short period is a challenge the European energy sector has never met.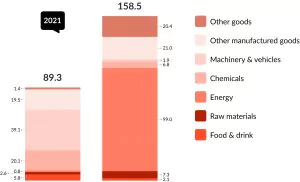 EU trade with Russia in 2021
At the same time, building a new infrastructure for liquefied natural gas (LNG) as the main replacer of Russian energy resources is an option that the EU will follow with a heavy heart. Reliance on fossil fuels once again not only hampers the EU's heading towards full carbon neutrality, but also draws the energy market into just another dependency.
Cleantech startups are here to help
Cleantech involves a wide range of technologies that can help Europe reduce its dependence on Russian energy resources in many ways, but the summary of these efforts is quite promising. International Energy Agency reports that transition to clean energy sources are expected to bring an extra 35TWh of energy to Europe, thereby reducing an annual gas demand by 6 bcm within the next year. 
Since clean energy startups can bring a bright future closer to the European Union, many governments are already supporting them: financing, building tax incentives, helping with research & development (R&D), maintaining gender equality in companies, and so on. 
European countries have a bunch of reasons to do so. First and foremost, the future energy efficiency and decarbonization are impossible without innovation that is usually born in startups rather than large enterprises.
Second, maturity of cleantech startups means local economic growth as more jobs are becoming available, budgets get diverse funding sources, and new major market opportunities arise. Last but not the least, factor here is a lack of private capital funding, so it's a good chance for governments and venture capital companies to fund long-term cleantech projects. 
Estimated gigatonnes of CO2 emissions reduction after maturity of cleantech solutions 
If you decide to start your own cleantech business, you'll get all the support you can imagine. You just have to decide what your cleantech company will do to resolve the EU energy crisis. Keep calm, we have discovered enough opportunities you can pursue. 
How cleantech market looks like today
Energy efficiency
Even though energy efficiency may look as a simple concept to understand, it's not really so. The primary meaning of energy efficiency is getting more power with less resources spent. At this point, renewable energy solutions come into play. You may even think that if Europe switches on solar and wind power fast enough, the crisis resolution is in the bag. 
Nonetheless, that's where things are getting a bit complicated. Energy efficiency solutions require… more efficiency. In other words, renewable energy challenges are real and they affect productivity. Thus, cleantech startups intend to reduce these inefficiencies for getting maximum from what the sun, wind, water, and other sources can give the energy sector. 
For example, the startup Solar Bankers provides solar panel farms with a holographic photovoltaic foil that helps to divide the sunlight in several wavelengths and accumulate only those that provide energy production, while the rest is absorbed with the foil. In such a way, solar panels avoid overheating, which allows them to work longer. 
Holographic photovoltaic foil for solar panels
What's more, we need to say that managing energy efficiency is an endless process. Keeping an eye on how much energy is spent, even renewable one, is a task people will have to do on a day-to-day basis. To manage this process, JatApp's client from Germany came up with an idea to develop a building energy management system that is powered with artificial intelligence (AI).
By having connected sensors and scanners inside the building, the solution can gather data about heating, ventilation, and air conditioning (HVAC). With AI algorithms, the system automatically regulates energy consumption, thereby making HVAC perform at the level optimal for comfortable home environments and reducing energy consumption.
With the user interface/user experience (UI/UX) design created by our team, the solution offers intuitive navigation through the system and features that simplify control, reporting, and access to HVAC automation.  
Solution's dashboard
Reliability and storage
Aside from making renewable energy sources more efficient, it's vital to ensure that the sources can provide power uninterruptedly and can be safely stored. That is why some relatable startups open from time to time. 
EnerVenue is a company that uses nickel-hydrogen batteries for storing clean energy with greater safety and effectiveness, as this technology reduces energy waste, thereby bringing the cost down from $20,000 per kW/hour to only $100. 
How the battery looks like
Zap Energy takes a different approach, as it focuses on the source of energy rather than its storage. The startup produces so-called fusion power that is sourced with scorched burning plasma. We won't bore you with describing extremely complicated physics but just say that plasma isn't some unreal thing from video games, but a hydrogen fused into helium, which burns and creates energy. 
The process of energy production does look futuristic anyway
In the same vein, Kemiwatt also doesn't look for trivial ways to make renewable energy storage more reliable. The startup produces liquid batteries that can store the energy for longer periods without losing a watt of power.  
How Kemiwatt technology works
Solar and wind are not the only sources of energy that mother nature kindly offers to humanity. As an example, Fervo Energy uses geothermal systems to retrieve the energy. Maintenance of this energy plant is cost-effective and less dependent on environmental conditions. 
Distribution
When renewable energy is successfully generated and securely stored, it still has to be distributed, and it is a separate domain of cleantech startups. Let's take a look at a couple of examples. 
HST Solar is a company that provides software for solar panel developers, construction companies, and solar farm owners for monitoring performance and distribution of energy within utility-scale networks. The solution includes AI algorithms that help to decrease inefficiencies and orchestrate power distribution in the most optimal way. 
Dandelion Energy could be another cleantech that produces geothermal energy, but the founders decided to extend their network to use by homeowners. In other words, the company connects ordinary households to geothermal energy to reduce utility costs and avoid unnecessary carbon emissions within the neighborhoods. Sustainability at its heart!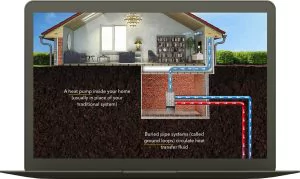 How geothermal energy works
Infrastructure
If we take all above mentioned domains of cleantech together, it will be a whole clean energy infrastructure. It's a way to go for many companies, while numerous startups build clean energy infrastructure that aims at a specific type of users or provision of additional services. We'll discuss all options.
Pika Energy simply provides renewable energy sources, delivery, storage, and monitoring. The batteries are resistant to any weather conditions, so users have a constant power supply, which they can track via web and mobile app. 
Earth Knowledge is a startup that gathers petabytes of renewable energy data to inform organizations and private entities about their power consumption and carbon footprint. By having such large data sets at their fingertips, the startup offers comprehensive analytics and consulting about energy efficiency management decisions and reduction of carbon emissions. 
Earth Knowledge data analytics
If we speak about building clean energy infrastructure for a specific type of users or individual industry, the electric vehicles (EV) segment is the one that should be mentioned first. The number of EVs is growing today, and a need for more charging stations is natural. Scarcity of EV charging points can halt the growth of the electric vehicle market and therefore put a heavy burden on the energy sector's shoulders. 
Consequently, charging stations' infrastructure is growing, but charging points require constant connectivity to report about their performance status, as stations that don't work have no use for EV owners. JatApp's client from Switzerland decided to address the problem of charging stations' connectivity. 
The customer asked our team to create EV charging stations monitoring platform to enable the company to keep track of their assets and ensure their streamlined connectivity. JatApp developed the solution including a mobile and web version that enable EV drivers, charging point businesses, and the client's company to monitor the status of charging stations and take necessary action in case any of the stations falters. 
Solution's user interface
Team up with JatApp to build your cleantech solution and stand with Ukraine
The list of cleantech startups isn't limited to those we've covered in the article. There are tons of other companies that make a positive impact on the resolution of European energy crisis. Whatever business idea you handpick, you need to remember that cleantech necessarily requires a complex Internet-of-Things (IoT) technology, which is why having a professional tech team is a must for your project. 
JatApp has 7 years experience in developing IoT solutions, and can provide you with the best software developers in Eastern Europe. Apart from helping European countries reduce their dependence on gas and oil, by cooperating with us you can support the Ukrainian economy and Ukrainian people who are fighting against Russian military aggression. 
Contact us to start your cleantech business. We'll reach out to you as soon as possible.