The global pandemic has turned the real estate industry upside down, creating new opportunities for businesses. People have shifted to the remote work mode relying mostly on digital solutions. All industries, including real estate, have been challenged to adapt to the new reality. As millions of venture dollars are being allocated to real estate technology, or PropTech, more exciting startups pop up in the real estate sector at a rapidly increasing pace.
Investment in venture-backed PropTech startups has exceeded pre-pandemic levels, with major fundings happening in property management and construction tech categories. Now that we face the need for digital transformation, PropTech companies continue to attract heavy investments.
If you are developing property management software, you may want to learn more about current real estate market superstars that investors find most appealing. In this article, the JatApp team is going to discuss 10 real estate startups to look up to, when planning to make your product. But before covering hottest PropTech startups, let's quickly recap what PropTech is.
What is PropTech?
PropTech refers to the use of technology to meet the needs of the real estate industry. PropTech startups are businesses that rely on real estate technology to change the way people purchase, sell, rent, construct, design, and manage their property. Property management startups offer innovative PropTech solutions to address post-pandemic challenges, thereby disrupting the real estate sector, in both residential and commercial areas. 
Venture capital (VC) funding boom during and post-pandemic
Crunchbase findings suggest that investment in the PropTech market has surpassed the rates before the Covid-19 pandemic. Property management and construction tech startups are those businesses that have received the largest amount of funds, which are $2 billion Year-to-Date and $1.9 billion, respectively. 
It is worth noting that investments in the 2017-2021 period are considerably higher compared to the previous decade. The abovementioned data highlights the increase in the PropTech market size as well as a ripple effect across the sector. 
Now, let's take a look at the list of PropTech companies that have made this market hot and vibrant. 
Top 10 PropTech startups
1. Ohmyhome 
Year founded: 2016
Headquarters: Singapore
With the appearance of coronavirus, people have become extremely cautious about in-person interactions, and the situation is predicted to remain unchanged. Covid-19 could have long-term implications, promoting a standardized rule in future that physical proximity should be avoided. 
Ohmyhome represents one of the hottest PropTech startups. The startup  provides customers with a user-friendly and, more importantly, contactless experience by simplifying buying, selling, and renting processes. The platform helps clients view homes virtually while also delivering home, agent, and renovation services. The Singaporean PropTech startup has raised $7.9M in funding, which accelerated its growth in the Southeast Asia region.
Ohmyhome app functionality
Grand View Research Report suggests that the property management platform market is currently booming, reaching $2.9 billion in the previous year, with the expected annual growth of 5.8% during the 2020-2027 period. Therefore, launching a similar software that matches homeowners and homeseekers is the key to rapid growth. Besides, PropTech software ensures a no-touch experience, which is a customer preference in 2022. 
2. Beike
Year founded: 2017
Headquarters: Beijing, China
The process of selling, renting, or buying a house may take up to several months and during this time people have to face long and stressful administrative procedures. Digital solutions reduce the average time of housing transactions while supporting and guiding users throughout the process. 
Beike is a platform that allows users to efficiently navigate property transactions by enabling real estate agents to record rental property, new property, and second-hand property. The platform also helps users to sell and rent homes, implement real estate financial solutions, make home renovations, and so on. Beike app managed to raise $3.6B and shows sustainable growth. 
Beike app functionality
The U.S. Bureau of Labor Statistics states that more than 5M homes are sold annually and nearly 68% of U.S. citizens own real estate. Building a multi-service property platform can become a super-profitable solution due to the constantly increasing demand in solutions that simplify the process of buying or selling property.
3. VergeSense
Year founded: 2017
Headquarters: San Francisco, California
As employees start to gradually return to offices, enterprises are challenged to invest in technologies to better understand how the office spaces are being used. VergeSense is one of the commercial PropTech companies that helps to monitor workers' movement. 
VergeSense offers artificial intelligence-powered sensors that detect employees' presence at the office. Other functions include space demand vs supply analysis, near-real-time detection, historical playback, environmental monitoring, time enabled heat maps, utilization analysis, and room/desk booking. The startup has gathered a large number of funds from multiple investors, raising an overwhelming $82.6M in total.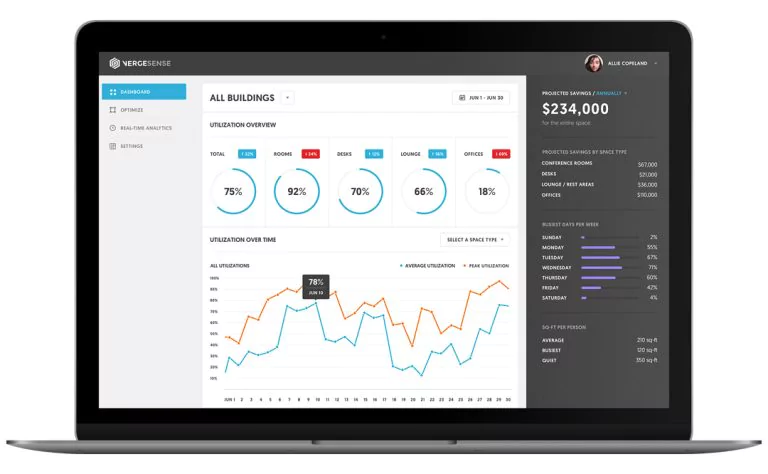 VergeSense app functionality
According to the PricewaterhouseCoopers survey, 68% of company leaders believe that employees should be in the physical office at least three days a week to support an organizational culture when the global pandemic no longer presents a concern. For this reason, building a PropTech platform that would help to track physical office use seems to be a good idea when the world shifts towards the hybrid work arrangement.
4. Uptop
Year founded: 2016
Headquarters: New York, NY
Managing rental properties can be a real headache. Today, both landlords and tenants highly value technology that helps to address all concerns at once, ranging from concierge and maintenance issues to communication and payments problems. 
Uptop is an enterprise-level property management software platform that helps to optimize the rental and management processes at no cost. The software assists people in viewing, applying for, and paying rent for their homes online. The platform also offers real-time chat with operators and homeowners, autopay-set, package tracking, and so forth. The startup has raised impressive sums ($5.5M), which presents convincing evidence of the company's success.  
UpTop app functionality
The rental sector has collected a venture capital of nearly $24 billion during the last decade. PropTech companies that promise to bring several parts of real estate rental operations together in one place continue to attract a considerable amount of funds. That's why the idea of building the property management software is definitely worth considering.
5. Doorvest
Year founded: 2019
Headquarters: San Francisco, CA
These days people have almost no time to view and purchase real estate offline. Doorvest is a real estate property technology company that helps customers to find and buy homes for rent online. This tech solution helps its users to purchase their picture-perfect home for future lease and generate passive income without even leaving their places. The startup appeared to be massively attractive in the eyes of investors gathering $42.5M in funding.
Doorvest app functionality
The global rental real estate market had a value of $1787.8 billion in the previous year with a predicted annual growth of 1.6% over the 2020-2024 period. The rental real estate market continues to grow rapidly, which is why developing a relevant tech solution for this niche is a promising business idea in 2022. 
6. OpenSpace
Year founded: 2017
Headquarters: San Francisco, CA
Consumers are now looking for products that would help them save time and resources on travelling to multiple locations to view the property . Moreover, the impact of Covid creates the need to keep the distance for safety reasons, which makes the property view less convenient. 
OpenSpace offers a 360° construction photo documentation software. The use of such technology is increasingly important nowadays, as people are able to see the property online without the need of going anywhere, as well as remaining fully protected from the risk of getting infected. The software provides a construction photo documentation, but also analytical tools, such as Progress Tracking and BIM compare. The construction tech startup is one of the most valuable PropTech companies that has gathered $88.5M in total funding. 
OpenSpace app functionality
The Business Wire 2020 Report concludes that the construction progress management market size is expected to increase by $508M during the next four years. It means that both small and large market players will need similar software to satisfy their diverse demands. You can revolutionize the real estate industry by delivering convenience through PropTech solutions to make construction processes more efficient and simple.
7. Utilizecore
Year founded: 2020
Headquarters: New York, NY
Businesses currently need a product that could help them facilitate subcontractor management and property management tasks, such as hiring plumbers or janitors. Such a tech-enabled solution helps companies to improve communication and operational visibility. This in turn translates into superior services to residential and commercial properties. 
Utilizecore refers to the SaaS-based platform that allows users to procure subcontractors and provide quality service by automating the supply chain. The software offers deficiency reports, service agreement management, equipment tagging, site and equipment management, and other features. Even though this startup is a newly created business, it has already managed to attract $5.3M of investment. 
Utilizecore app functionality
Building a similar tech solution is a great idea today, since many venture capitalists (VCs) prefer investing in SaaS-based platforms due to their scalability and capital efficiency. Moreover, this type of software helps to automate many manual tasks, which is expected to be in high demand for years to come. 
8. Offr
Year founded: 2018
Headquarters: Dublin, Ireland
Today, users appreciate the convenience of digital solutions that can make buying and selling transactions simple. Such innovations enable people to minimize social contacts as well as simplify their routine. 
Offr refers to a property management platform that allows users to rent, purchase, and sell a property with just one click. The platform helps clients to manage custom offer sessions, upload documents, view schedules, and hold multiple transaction types, such as open offers, auctions, sealed bids, off-market sales, and so on. The startup that has also received impressive fundings ($3.7M)
Offr app functionality
Similar PropTech solutions will remain extremely profitable this and next year, given the rising numbers of people willing to buy a home. You can revolutionize the sector by developing even more convenient and efficient solutions to lease, buy and sell a property. 
9. Giraffe360
Year founded: 2016
Headquarters: London, United Kingdom 
Wide-angle photography has been around for a while now but the global pandemic has brought it to the forefront. Even when most restrictions are lifted, people have grown accustomed to 360° photos and virtual tours that allow them to view any property from their home desktop or phone. 
Giraffe360 is a PropTech startup that has disrupted the industry by providing subscription-based products for real estate firms to provide wide-angle photography. The company also offers detailed floor plan creation and virtual tours. The total funding amount of the startup reaches $6.3M and, given the rising popularity of 360° photography and virtual tours, is expected to increase over time.
Giraffe360 app functionality 
If you are planning to develop a similar software, you have the potential to win over the market and attract considerable investments. Innovative services that provide panoramic images and virtual tours have become a helping hand for many people and businesses that do not want to spend time seeing properties in person or hiring different people to do the job.
10. Casai
Year founded: 2019
Headquarters: Mexico City, Mexico
Early in the pandemic, travel restrictions were placed and hospitality businesses faced a major crisis. Once things opened up again and travel was allowed, PropTech solutions, such as Casai, that supported digital nomadism and flexible tourism have become insanely popular. 
Casai is a short-term rental startup that offers travelers accommodations and smart home solutions. The startup offers personalized support and smart home technology to enrich your stay in Mexico City. VCs poured their money into this startup, investing a total of $53M.
Casai app functionality
Now that fully vaccinated people are permitted to travel, short-term rental and hospitality PropTech software will be in a much higher demand.
Wrap-up
The PropTech market is currently flourishing, and dollars continue to flow into the real estate sector, especially construction and property management categories. The startups mentioned in the article offer compelling new products that help people to save both money and time, while creating the opportunity to avoid social contacts and physical proximity, which today has become an important consideration. Top PropTech companies we've talked about were able to meet the current market needs, which is why they have become so trendy in 2022 and attracted solid investment. 
VCs are currently interested in innovative solutions that promise juicy returns, so now is the perfect time for you to launch a startup that would offer a more fuss-free and user-centered product to transform the real estate industry.
Need a hand? Here at JatApp we have solid experience in building property management software. One of our projects is Cunio, a property management system that changes the way service providers, tenants, and landlords communicate with each other. A self-contained notification microservice enables clients to receive different types of notifications and therefore meet their property management needs. 
Feel free to contact us to make your bravest PropTech startup ideas come true.