The outbreak of the COVID-19 pandemic has changed the rules for the real estate business. Property companies and real estate investors are forced to quickly introduce new technological solutions to address new needs for remote and contactless interactions. Even though the real estate industry is one the most stubborn sectors, the world we're living right now doesn't leave any choice but to embrace digital solutions to keep renters, property managers and owners safe. 
This explains why the reliance on proptech technology products is high as never before. Demand creates supply, so more and more companies are looking to create an advanced solution for the real estate industry. So, if you're going to build your own product, it's high time. 
But to gain a competitive advantage over your rivals,  you have to better understand what technologies are in highest demand and what challenges in the real estate business they solve. In this article, we will discuss the top proptech trends in 2022 that will serve you as a helping hand for building your own product. 
What is proptech?
Proptech definition is quite simple. It is any kind of technology that benefits the management of property and the real estate industry. Commercial property, multifamily housing, co-owned residential buildings, and anything else that falls under the category of real estate are the targets of proptech solutions. 
Property technology serves two major purposes: they facilitate the property management, and create comfortable living conditions for tenants. Property management tools simplify a variety of tasks, such as rent collection, maintenance planning, accounting and such. At the same time, tenants are looking for solutions for fast and simple apartment search, home security monitoring, and trouble-free communication with landlords and property owners. In such a way, proptech is a technology that is helpful to many people, so its current popularity is not a coincidence.  
Market landscape and the role of the pandemic    
According to the MSCI Real Estate Industrial Report, the global real estate market size has already passed $9.6 trillion. By 2025, the real estate industry is expected to earn a revenue of $4, 263.7 billion. It is difficult to deny that the property market grows despite any challenges associated with the pandemic. 
Nevertheless, the real estate industry has to face several changes brought by the coronavirus. First of all, a heavy reliance on technology is the most apparent change you can observe. The pandemic forces people to adhere to social distancing and stay at their homes, meanwhile the property management and real estate business still have to keep running. In this regard, property technology already helps real estate businesses address such tasks as house viewing and communication, provision of smart home solutions, and risk-free management of investment decisions. 
Being located in the city center close to business districts and public infrastructure always increases the value of property. However, such a location is not considered good any longer. A major shift in working from home has significantly affected the preferences of tenants. Today, they do not seek apartments located in urban areas close to their offices. Instead, suburban and rural areas are becoming more popular with renters, as working in a quiet place far from the noisy city center makes them more productive and enables them to maintain work-life balance. This change implies that real estate can be both a home and working space at the same time. 
On a separate note, the demand for solutions to make homes more eco-friendly has grown as well. Again, the lockdown restrictions make many people stay at home, so their power consumption and carbon dioxide emissions have increased. That is why many people are looking for ways to reduce their environmental impact. This creates a need for proptech solutions that can help tenants and property managers optimize the consumption of water, electricity, and other utilities.
The above mentioned changes emphasize the impact COVID-19 pandemic has had on the market and the reason why real estate companies started adopting digital solutions more willingly. Deloitte's 2021 Commercial Real Estate Outlook reports that 82% of real estate businesses confirm that their decision to digitize most of their business processes was due to the outbreak of the pandemic. So it's safe to say that the proptech industry is growing at the speed of a spaceship, and the coronavirus has definitely become its fuel. 
Top proptech trends for 2022  
Big Data
Big Data is one of the recent technologies that knocks on the door of almost every single business. With the help of Big Data, businesses can analyze large amounts of data to determine any visible trends, and make more informed business decisions. In terms of real estate, Big Data helps companies to arrange and gather data related to all vital processes within the property: security, how well utilities work, expenses, telecommunications, and others. Also, Big Data helps much with real estate investment and marketing. Price estimation, depreciation, appropriate leverage, and comprehensive market analytics are the main advantages Big Data analytics can offer in this respect. 
Remine presents a simple, yet effective solution for the real estate business. Driven with Big Data analytics, Remine is proptech software that connects real estate businessmen, home purchasers, lenders, and multiple listing service companies. The platform enables real estate companies to reach their target customers by accumulating various types of data to make the most effective business decisions. Property companies benefit from this solution because they do not need to look for new customers at multiple portals and websites. 
Remine user interface
Artificial intelligence (AI) and machine learning (ML)
The use of smart algorithms to analyze and use data for the automation of various processes is the main benefit artificial intelligence and machine learning provide. Neural networks already nailed the creation of music and modern art paintings, so mastering a subtle art of property business is no exception for AI solutions as well. 
Portals for property search already use simple AI algorithms to offer property for sale according to size, location, and price range. This kind of solution is quite promising, as AI is likely to make more precise recommendations based on a customer's personality traits and values. In addition, HyroHub reports that chatbots at property search portals are smart enough to troubleshoot any issues of a customer, including leading a consumer to a property showing.
Proptech AI and machine learning can also help with price prediction. ML works with historical data related to prices at the market, and even considers such factors as crime rate, availability of public infrastructure, and environmental conditions within a chosen area to form the price of a certain property.  
Click.AI  is a good example of how AI and ML are used in real estate. It is an automated underwriting service that allows property businesses and investors to observe projected cash flow information to evaluate any financial risks and prospects related to investment in commercial property. Artificial intelligence and machine learning automate documentation filing and financial calculations, thereby saving property business people's time and money.   
How Click.AI works
Virtual/Augmented Reality (VR/AR) Solutions
The ability to see a property without a need to take a long journey to the property location is one of the most typical applications of VR/AR technology to the real estate business. Approximately half of the customers prefer to view the property online, so VR and AR solutions can take property search and purchase to the next level.
With virtual reality technology, real estate agents are able to offer online property tours or show realistic 3D models of the property under construction, thereby saving time for both their clients and themselves. In a similar vein, augmented reality enables property managers to provide future tenants with instructions related to the property they are going to lease. For example, explaining how to turn on a floor heating is much easier with a virtual demonstration rather than reading a long and boring manual. 
As an example, roOomy is a software that offers a VR property staging: it is possible to add a digital image of any furniture or accessory to view how the space will look like. Apart from property staging, the solution provides instruments for interior designers. In such a way, property companies can use this service to customize property design according to the preferences of their clients and discuss all details in advance. This helps to avoid misunderstandings and enables property companies to meet customers' expectations with better precision. 
An example of roOomy interior design AR tool. 
The Internet-of-Things (IoT)
Devices that belong to the Internet-of-Things category are constantly connected to the Internet to send and receive information from a cloud to perform their functions. In real estate, such devices are frequently used to notify homeowners about the status of their property when they are not home. Alerting residents about unauthorized property access, gas/water leaks detection, as well as the remote energy and heating control are just some functions that became possible thanks to IoT devices.
According to Forbes, IoT devices promise a bright future for proptech, due to the fact that the future of property management is going to depend much on smart homes. An ability to control different aspects of the home such as lighting, air conditioning, appliances, multimedia, and security is a significant value that IoT creates today. Apart from that, IoT allows the creation of customized scenarios for various occasions and lifestyles, depending on the user and the type of property. 
A new proptech superstar in the market is IoT devices that enable remote authorization of visitors. In the post-pandemic era, people heavily rely on online shopping, so frequent visits of delivery services are common. This is a real proptech challenge, but IoT solutions can provide remote communication with couriers via camera, or open property access with a temporary PIN code sent to a courier's device. This helps to avoid personal contact and ensure that a delivered package won't be stolen until the owner comes home. 
TechCrunch reports that RealPage has recently acquired Stratis, a startup that presents an open ecosystem of home IoT devices. With the help of Stratis smart sensors and devices, users can control HVAC, electricity consumption, water management, and home access. The devices can be integrated with a wide range of smart home solutions from various producers and even proptech platforms such as Entrata and RealPage.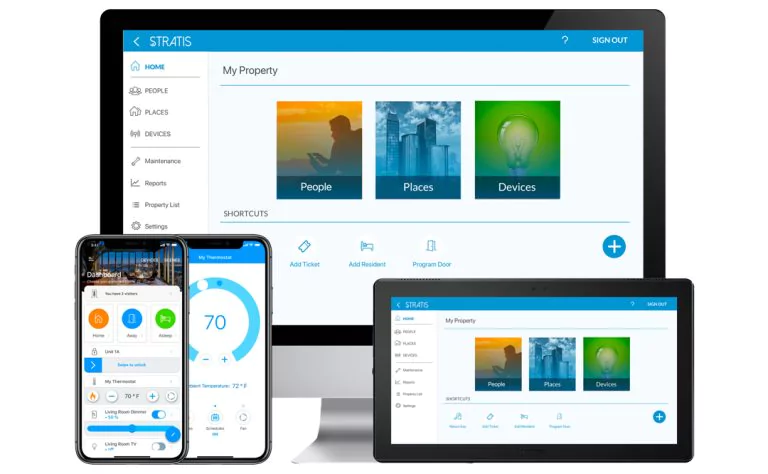 Control dashboard in Stratis
5G
A fifth generation of Internet connection is a core basis for many innovations. Property management technology also benefits from this technology. Better connectivity of IoT devices and telecommunication services available within the property are an evident win for the real estate business. 5G network also provides an opportunity to create additional value propositions for renters and homebuyers, as superior quality of telecommunications and capacity for using smart home devices that require a high-speed Internet connection are the main benefits.
Netmore has become a 5G operator for Niam, one of the largest residential property owners in the Nordic region. Netmore Property Network is a service that involves the 5G connectivity secure for all building systems and smart home device management as an all-in-one solution. The company offers a new 5G-as-a-service approach that does not burden property companies with any capital expenditure investments or extra costs on maintenance. As a result, real estate businesses can have full-scale smart home solutions and telecommunications without much trouble.
Illustration of Netmore solution
Drones
Drones may be a somewhat unexpected trend in terms of proptech, but it's indeed a great investment opportunity. Drones are particularly useful for the property of large size to demonstrate the whole awe-inspiring scale of the real estate suggested for lease or sale. Aerial property view can substitute a tour by foot for large types of property, cutting down the time on exploring it, and that's why property companies would definitely consider drones useful proptech tools thanks to their major benefits at a reasonable cost. 
Aeriallook offers a service of drone-filmed videomaking for real estate. The company uses the latest practices of aerial cinematography to attract 403% more traffic to a customer's property listings. One picture says more than a thousand words, and aerial video can tell even more. 
The real estate filmed with a drone by Aeriallook 
Proptech will be more than alive in the post-pandemic era
The COVID-19 has significantly affected the real estate industry, creating a strong need for social distancing and contactless interactions, giving start to many innovative proptech solutions and startups. Right now, the abovementioned trends rule the market and companies following these trends will continue to grow in 2022 and possibly long after the pandemic is over. So when you're looking to build a proptech solution, now is just the right time. If you have an idea that will conquer the proptech market, JatApp is here to give you a hand. With 6 years of experience and more than 200 projects completed, we can help you to build a solution aligned with your vision and business needs. Do not hesitate to contact us and we will get back to you as soon as possible.