People are inherently social creatures –  it's no secret. We all like socializing with friends on Friday nights, texting loved ones after a hard day at work, or visiting our grannies to protest against another piece of cake that threatens to put us in a food coma. Many businesses seem to understand this simple truth and now capitalize on building products that are social at their core.
Take Venmo as an example. It's a popular social+ fintech solution, which has made sending and receiving money as easy as sending friends a text message. The app's social component allows users to interact with each other via texts, emojis, animated designs, and so on. Today, nearly 14% of Americans aged 18 and older use Venmo for money transfering. The company has managed to grow to the point that people start to use the word venmoing instead of paying. 
Based on our knowledge in peer-to-peer (P2P) payment app development, the JatApp team would like to discuss why the buzz around social+ companies seems to be growing and how to build a successful mobile application like Venmo. 
What's a social+ company?
A social+ company is the one that perceives social engagement as an integral part of its product experience. In other words, in social+ products the stress is put on communication.
Users can engage in frank conversations and form meaningful connections within the context of the goal they're pursuing. Whether it's splitting bills with Venmo or bragging about bitcoin gains on Reddit, social+ products help users start friendships, find encouragement, get inspired, gain some new knowledge, and overall feel more connected to a larger community. 
Venmo app social feature
The hallmarks of a social+ company
Basically, you need to have two key components to create a true social+ company: peer-to-peer engagement and a social element, which is the heart of the product.
Peer-to-peer engagement
If you understand that audience and community are two different things, there's a fat chance that you may confuse a social+ product with other solutions. In case you don't get the difference, a community engages in interactions, while an audience consumes information passively. 
With social+ products, users communicate with each other, not just with one creator or curator. A great example of the social+ app is Peloton, where users can not only engage with an instructor, but also motivate and express support to other fitness enthusiasts.
Peloton app social features
The social aspect as an integral part of the product
Social features are not an afterthought, but the lifeblood of every social+ solution. With that being said, social+ products lose any sense at the very moment when the social element is removed. However, by simply adding intrusive "share with a friend" pop-ups you won't make your product genuinely social, as this social component isn't critical to the product experience. 
Many platforms invite users to share their stories with others, but this doesn't necessarily mean that the companies are going social. By contrast, Twitter has a social component integral to its platform, since users themselves are generating and curating content. Eliminate the social functionality from this network and the product will cease to exist. 
User-generated content on Twitter
The benefits of building a social+ company
Social+ companies are gaining massive popularity and for a reason. If you ever split bills with a friend for a birthday gift or for meals at the restaurant, you can feel the pain (or even get a flashback after reading this). Who wants to deal with cash, if you can use a mobile payment app and transfer funds in a swipe of a finger? 
Apart from helping the world get rid of paper money, here are some more benefits a social+ fintech company can bring to the tables. 
Data-driven personalization
Incorporating social elements into your fintech solution allows you to take advantage of your users' data. There's nothing criminal about this. You can leverage this data to better understand which features users like and which…not so much. When you have a well-established community, it becomes much easier to gain valuable insights that can help create personalized user experiences. 
Better user retention
Relationships with your customers are extremely important. At the end of the day, these relationships determine whether users will settle down with your fintech solution or abandon you looking for your competitors' offerings, especially if they offer competitive pricing. If you provide your clients with an opportunity to join the community they can relate to, chances are that they won't leave you just to save a buck. 
More rapid growth
When the social component is present in the product, it's not rare that users themselves drive the growth by encouraging their friends to become a part of the community. Members of active communities are inspired and excited by their interactions, and when they're really excited about the product, they tell others about it. Building a community around your brand will give you a steady flow of clients, so you may not need to put much effort into product promotion. 
Venmo "invite friends" feature
User-generated content
User-generated content is the pillar of any social+ solution, driving interaction among community members. Social+ companies may benefit from users' popularity and creativity and save up on creating content that clients would find worth consuming. Besides, the unique user-generated content, be it a meme or a screenshot, makes your solution look more credible in the eyes of prospects than any marketing campaigns you could possibly think of. 
User-generated content on Venmo
What brought Venmo to where it is today?
For about a decade, there has been fierce competition between companies that aim to help people split the bills, so they won't split up due to money relationships problems. Today, it seems like we have a winner. Venmo's payment volume amassed an astounding $230 billion last year. Let's see how in the world Venmo did it. 
Integration with Facebook 
Integration with a social media giant like Facebook was a smart move for Venmo for two reasons. For one, it allowed users to sign up quickly and easily find friends with whom they want to split the bill. And two, it gave Venmo promotion at no cost. All P2P transactions could be shared on Facebook, which helped to raise awareness about the brand in no time.  
Fun and social experience
Venmo has turned an awkward experience – requesting friends to give you money back – into a social and entertaining one. Users can use notes, send emojis, leave creative comments, or make inside jokes, which help friends ease tension and get rid of embarrassment during P2P payments.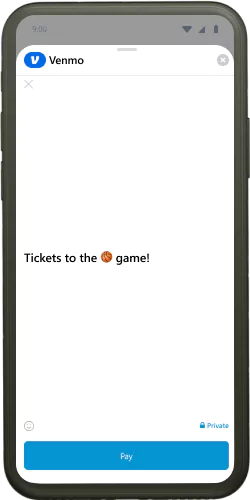 Venmo notes feature
Many people today are often out of cash, and even when they're not, they may not have the right amount. When a person can't pay back right away, they may start feeling distressed. Venmo offered users a way to talk such things through with ease, while also letting them engage with each other in a unique and interesting way. 
Additionally, one of the most exciting features is a social feed of transactions, which enables friends to see who paid who. Users may also read all notes related to these transactions. The only thing that is lacking is the amount (only a user can see the amount of money they have paid). Most Venmo users are pretty much into using emojis and stickers in the notes, which helps to make their social interactions even more fascinating and vibrant. 
Users' transactions are visible to the public by default
How to build a competitive social+ fintech product?
Basically, you need to remember two key things when building a social+ product. Let's take a peak at them right away.
Develop a social+finance solution, not "finance+social"
When creating a social+ product, it's important to bear in mind that it's "social+finance", rather than "finance+social". Adding a single social component to the fintech product won't work any magic. Social needs should be an inseparable part of the product's mission. To deliver truly social experiences, it's essential to offer users tools for peer-to-peer interactions. What will do the trick, though, is implementing features like activity feeds, in-app publishing, leaderboards, group and one-on-one chats and/or voice calling alongside the transactional functionality. 
An example of Venmo's social component
Leverage the power of application programming interfaces (
APIs
)
Building all aforementioned features sounds like a daunting task. But it doesn't have to be. With the modern API ecosystem, you can make use of innovative social features and launch your product surprisingly quickly. 
Additionally, you'll need the moderation feature for your social+ product. Any solution that allows users to generate content requires tools to filter out illegal, sensitive, or inappropriate information to keep the community safe. Developing your own tool may be rather time-consuming, and manual moderation is also not an option, as it's money-consuming and has a huge impact on the mental health of people who have to filter this content. The only viable solution left is to make use of the right out of the box moderation functionality when building your stack. 
Incorporate social features into the DNA of your fintech solution
Social+ products are gaining momentum lately, with companies like Venmo leading the way. Social+ products are here to stay, and the fintech industry is no stranger to this trend. The good news is that these solutions are still in their infancy, which opens lots of business opportunities for fintech startups that dare to act now. 
JatApp can help you become one of those brave first movers who reap all the benefits of being social+. Our company can boast of more than 7 years of experience in the fintech industry and over 200 completed software projects. 99% of our clients are happy with our services and continue to cooperate with us for three years on average.  
If you're waiting for the right moment to build a P2P payment app, we're here to tell you that this moment is now. And our software development agency would be glad to share this journey with you. The only thing you need to do is press this contact us button and we'll write you back in a very little while.