Courtney Dombroski was so obsessed with connected fitness classes that she repeatedly broke the law by sneaking into an apartment building with a gym. Over the past four years she pretended to live in this building just to get another chance to use a spinning bike from Peloton. If you don't understand why anyone would do such a crazy thing, you probably haven't heard much about how addictive Internet of things (IoT) in fitness technologies can be. 
The JatApp team would like to discuss why there's so much fuss about IoT solutions for fitness these days. We will also share some successful use cases for you to understand what's trending right now. 
The market of fitness services after Covid-19
During the Covid pandemic people had to embrace the "remote-first" lifestyle and search for new ways to perform daily tasks. Such things as workouts at the gym became a luxury beyond the reach of many, which, as a result, gave rise to connected fitness and IoT gym technologies. 
Covid turbo-charged digital workouts, bringing a whopping 194% sales growth to home fitness businesses in 2020. At the same time, gym sales were witnessing a rapid decline by up to 39%. During the global pandemic people started to prioritize their health more, turning to virtual fitness platforms in a hope to boost their immune system and stay healthy. 
Even though the pandemic is over thanks to mass vaccination, fitness applications are here to stay. Naturally, once gyms were open again, the number of fitness app users considerably decreased in 2021. However, this year already fitness lovers seem to come back to their at-home workout routine, as the number of users grew to earth-shattering 86.3 billion. 
Number of fitness app users in the US from 2018 to 2022
Modern digital fitness platforms shape the future of the fitness industry. The global fitness app market is expected to reach $15.96 billion by 2026. One of the possible reasons behind such a success is that people have gotten used to the convenience that these technologies brought to their lives during the pandemic and now are ready to pay for both IoT fitness devices and subscriptions in order to exercise in the comfort of their homes.
What is connected fitness and why is it a new obsession?
Connected fitness refers to exercise equipment connected to the Internet that offers users streaming fitness instructions. The Global Connected Fitness Market reached $1.1 billion last year and is predicted to increase at a compound annual growth rate (CAGR) of 4.2% by 2026. 
The main reason behind such popularity is that these IoT-based technologies make it easy for users to see the full picture of how intense they are working out and what they should do to get better without the need to attend a gym or even leave a house. 
Peloton is the market leader in this new category of sports and fitness. It has become the hottest industry trend, bringing more than $1 billion in revenue for the first three months of 2021. Peloton's main product is a stationary bike that presents easy-to-use fitness equipment with a screen that shows live classes with instructions. 
Now, you might wonder why on Earth someone would need an instruction to use the bike. The thing is that it's more of cheerleading support rather than any sort of guidance. Peloton connects users with the community, promotes a sense of belonging, and improves motivation to keep pushing the pedals, even with the uncomfortably high heart rate and rivers of sweat on the face. 
Daniel Lieberman, an evolutionary biologist, claims that motivation is the biggest concern when it comes to keep on doing sports. Humans evolved to preserve their energy, so that we're active only when it's either pleasurable or necessary for survival. Connected fitness technologies, like Peloton products, with their social media and gamification features trick human minds by offering users rewarding experiences and therefore getting them to work harder.
The comfort of doing sports in one's own home whenever it's convenient is a competitive advantage, with which connected fitness startups expect to win the competition despite a relatively big price tag. What's more, connected fitness technology provides real-time feedback from a fitness trainer, creating a more interactive experience compared to wearables and fitness applications. Even though a user can interact with an instructor and compete with their friends, they don't feel intimidated or awkward, like when they exercise at the gym. 
Connected fitness startups that transform the industry
Apart from Peloton, there are also other inspiring examples of connected fitness startups that have shaken our perception of how a workout should be done. 
Mirror 
Instead of getting into fitness in front of a regular mirror, people can now work out using an IoT-driven smart mirror that analyzes their movements and offers instructions and instant feedback. The company has managed to attract $74.8 million in funding according to Crunchbase. 
Connected fitness device called Mirror
Mirror is a connected fitness device that looks like an ordinary mirror that shows not only the user's reflection but also their trainer and classmates for practicing different types of physical activities like yoga, boxing, barre, and pilates. Users can also find metrics that evaluate their performance on a sleek and responsive screen. Meanwhile, professional trainers offer real-time feedback on how well sports enthusiasts are completing their exercises. This personal trainer software enables fitness fans to benefit from more than 10,000 classes on demand.  
An example of Mirror's metrics to measure users' performance
Tempo
The San-Francisco-based startup, Tempo, focuses on strength and cardio training by offering instructions from professional fitness coaches while also providing its users with a set of dumbbells and barbells. The technology doesn't take much space and is practically the size of a minifridge. 
Connected fitness technology called Tempo
The company boasts of a wide range of on-demand and live classes for users to choose from depending on their needs. People can also filter classes to find those that require either dumbbells or barbells only. Moreover, the IoT technology has 3D sensors that examine users' movements and offer immediate feedback, so that they could progress towards their goals. It's no wonder that the total funding of this startup reached an overwhelming $298.8 million.
Tonal
Tonal is another startup that benefited from the connected fitness trend. Unlike barbell and dumbbell-based weight classes, the technology offers resistance equipment in addition to the interactive screen. The experience with the product starts with a quick assessment, so that the gadget knows exactly how strong a user is. Consequently, Tonal aligns every workout session with the user's physical capacity at the moment, so that they can lift in a more effective way. 
Connected fitness solution called Tonal
Similarly to other connected fitness devices, users receive comprehensive performance analytics that demonstrate their progress. On top of that, they can measure the strength of different body parts, which helps them achieve their fitness goals faster. Investors literally showered this startup with money, pouring $450 million in the product. 
Other IoT use cases in the
fitness industry
Connected fitness gadgets are not the only IoT-based fitness technologies that are on the rise nowadays. Wearables, as well as smart apparel and footwear have also been popular in professional sports and everyday life. These devices help to improve fitness lovers' performance by gathering and analyzing their data.
Wearables
For many people, wearable technology has become a must-have item for everyday activities. Such IoT devices as smartwatches and fitness trackers, allow users to analyze their health data and actions throughout the day. More specifically, modern wearables can perform a variety of tasks, ranging from simple ones, such as counting steps, to more complex procedures, like getting an electrocardiography. 
Apart from smartwatches and fitness trackers, there are many other more innovative IoT integrations for other startups to get inspired. Lumo Lift presents a perfect example of such a solution. It's a small gadget attached below collar bones with wireless sensors that indicate when a person slouches. The following wearable makes users more aware of their posture, thereby preventing back and neck pain or other related health concerns. 
Lumo Lift, a wearable IoT device
Smart apparel and footwear
If you think that smart sports clothing is something from the world of science fiction portrayed in the film "Back to the Future", you need to see the market size comparison for the smart apparel from 2018 to 2025. Smart garment has become our new reality, with the global market predicted to reach more than $5 billion.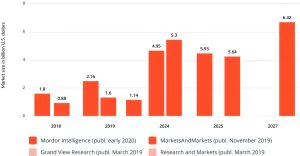 Market size comparison for the smart apparel market from 2018 to 2025 (in billion U.S. dollars)
To give an example, Sensoria produces smart clothing pieces that not only measure the heart rate level while a person is running but also monitor their performance and track their progress. Its smart socks can be extremely useful for runners, as they identify potential risks and notify them about an incorrect running style that can lead to injury. 
Sensoria smart socks
Similar to running, yoga can also be traumatic, especially if practiced without a qualified instructor. Yoga newbies can use IoT solutions to help them with body positions during their classes. For example, Nadi X Smart Yoga Pants examine users' progress and alert them in case of potentially traumatic asanas by vibrating around the respective body area. 
Nadi X Smart Yoga Pants
Bottom line
With such a rapid rise of IoT in sports and fitness, users' preferences are also changing and businesses need to embrace the trend to stay competitive. To live up to growing customers' expectations, fitness companies should not only be aware of the current trends and existing innovative solutions, but also find a reliable software agency that specializes in IoT applications. 
JatApp has been delivering software solutions for six consecutive years. Many of these projects were IoT-enabled applications that have thousands of active users. Our company has a five-star rating on Clutch, showing a high client satisfaction rate. So, it's no wonder that the duration of our projects is three years on average. 
If you want to partner with JatApp, don't hesitate to contact us and we'll come back to you as early as possible.