The rise of artificial intelligence (AI) has sparked the panic in human resource (HR) managers, making them think that companies are one robot away from firing their teams. In reality, technology, such as HR process automation software, isn't meant to replace the workforce, but rather reduce their repetitive tasks. Moreover, tech solutions allow businesses to cut down time-intensive HR management processes by up to 30%. This, in turn, frees up employees' time for achieving more important strategic goals.
Today, we're heading towards the future, where most HR tasks are automated, so HR professionals need to remain at the forefront of innovation to achieve maximum efficiency at the workplace. Based on real-world business cases, the JatApp team would like to discuss why HR automation solutions are vital for the health of organizations, how managers teams can automate, HR processes, and which features you may need to add in order to succeed in today's market. 
HR automation software is the answer to 3 common HR problems
By automating HR tasks, companies can address such business problems as low productivity, communication gap, and lack of performance tracking. Let's take a closer look at examples of automation in the workplace.
Low productivity
Tedious HR functions, such as updating employee information or conducting performance reviews, can take much time, resulting in managers' low productivity. Automation of HR process technology helps HRs perform at their best by reducing the burden of administrative tasks. For example, to sign the documents, managers can simply add a signature in Google Forms without the need to send docs back and forth, creating long email chains.
Besides, when goals and objectives are manually recorded, it becomes quite challenging for the staff to recognize little wins and achievements. Automated goal tracking allows workers to monitor their progress and celebrate their successes with minimal managers' input. A sense of accomplishment increases employees' motivation to work harder, which cannot but reflect on their productivity. 
Below you can find an example of Friday, a goal tracking system that lets employees share updates on their work.
Friday.app functionality
Communication gap
A communication gap is the underlying reason for worker's disengagement, low productivity, and employee retention issues. One of the major HR responsibilities is to keep the lines of communication open between employees and company leaders. This means keeping staff members informed, communicating organizational changes, and resolving workplace conflicts in a timely manner. 
Today, more and more businesses are opting for HR process automation technology to ensure two-way communication with employees. Now, you might ask, "Why use automation technology instead of a friendly phone call? The answer is quite simple: automation software allows HRs to get feedback on a regular basis without any hassle. 
It's not uncommon for managers to put employee feedback on hold until next week or month, prioritizing more urgent tasks. Technology automates requests for workers' feedback or emotional check-ins, thereby supporting a habit of reporting and preventing communication breakdowns. 
For example, JatApp helped one of our clients to build an app for employee engagement. The solution enables managers to conduct customizable engagement surveys to better understand what work-related problems employees are struggling with. HRs can set up the frequency of these surveys using an admin panel, so push notifications will remind employees to take part in them.
With this app, professionals can see problem sectors of the business that otherwise would go unnoticed. For example, having an automated survey tool in place helps to reveal a toxic work environment and better understand why employees are quitting.
Functionality of the app for employee engagement
The lack of performance tracking
Many businesses lack a standardized performance tracking process, resorting to informal and rare conversations that happen after a team member has already missed a performance benchmark. In some cases, organizations may not even have formal benchmarks, which makes it hard to evaluate workers' performance and identify who needs extra assistance or training. 
HR automation software notifies managers to take action early on by helping a teammate to get back on track. Some automation solutions not only alert managers when a worker is at risk of not meeting a milestone, but also show the latter a visual representation of their progress. This also eliminates a guesswork out of performance assessment, reducing the risk of turnover and improving business outcomes. HRs can provide greater autonomy to those employees who are succeeding in their goals. 
An example of an automated performance tracking system
Key processes
HR teams
should automate right now
Where can businesses leverage automation software to minimize human error, increase productivity, and save precious time? When building your HR automation software, these are three places to start. 
Recruitment
Automating the recruitment process allows HR professionals to reduce the cost, save time, find the right talent more quickly, as well as ensure a seamless candidate experience. These days, the market is filled with different recruitment solutions, from machine learning (ML) technologies helping to write job descriptions to applicant tracking systems (ATS) that enable self-service interview scheduling. Some companies also take advantage of HR management software that integrates with job-advertising platforms driven by artificial intelligence (AI). This aids them to match job advertisements with candidates that have necessary skills and experience. 
In the recruitment process, HR teams pay careful attention to how they communicate with prospective candidates. Texito provides assistance with messaging, whether it's organization's description or job posting. The solution resembles Grammarly, a spell and grammar checker, but with more focus on culturally sensitive and inclusive communication. The technology checks HRs' writing for various biases and offers recommendations on how to support a positive work environment. 
Texito app functionality
Users can also see how their messages score in comparison with other pieces of writing, such as job descriptions for the same position in the nearby area. Texito also suggests words that are likely to appeal to a certain target audience. Besides, the given tool saves HRs' time by allowing them to make templates for emails and job postings.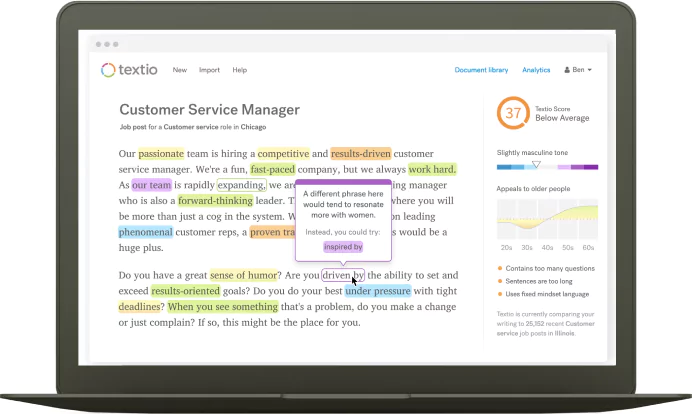 Texito app functionality
Time and attendance management
In large organizations, managing time and attendance can be a daunting task, especially if many employees work under a remote or hybrid model. Investing in automation technology can make a big difference in this case. HR workflow automation helps to create employee schedules, manage time-off and shift requests, record the beginning and end of a workday, provide GPS coordinates on clock-ins, offer visualized reports of tracked time, and much more. This helps to prevent absenteeism at the workplace while helping HRs to manage employees' workflow.  
A good solution to discuss here is a time-tracking tool called OnTheClock. Unlike many other tools that provide only GPS tagging at the start of a working day, the automated HR system shows where team members have been during a day and their location in real-time. HR specialists can see at glance who have been absent and take corrective action when necessary.  
OnTheClock GPS tagging feature
Benefits of HR process automation
Automating payment and reward systems is essential for saving HRs' time and effort. When newly hired employees join the team, technology lets managers quickly add them to the payroll system. Completing this task in no time means that hires are likely to feel more satisfied with their new company. The automated payroll process ensures security and data accuracy, since there's no need to manually enter employees' personal info. Likewise, connecting HR technology with the benefits system relieves extra admin work for managers. 
Let's take a payroll and benefits solution, Rippling, as an example. With this technology, an HR department can set up new employees' payroll, 401K plan, and health insurance in only ninety seconds. The technology links all employees' data with the payroll, so that managers don't have to manually enter any data or use a calculator, which leaves no room for human error. 
Rippling payroll feature
Unique automation features to include in your
HR software
When planning software functionality, you need to focus on features that would give you a strong competitive edge. You don't want your HR automation solution to be the exact copy of your rivals' products. That's why you should differentiate unique features from nice-to-haves. Let's see what features can help you to stand out from other market players. 
Background checking 
Traditionally, background checking presupposes finding the information about all the potential candidates to define whether they fit the job position. Automation helps to make sure that the right checks are timely implemented for every job applicant. Connecting recruitment software with a background checking technology can substantially reduce time-to-hire. This, in turn, helps businesses to ensure better employee and candidate experience, which eventually increases the retention rates. 
As an example, Zinc, is HR software that has the background checking feature, which notifies hiring managers about each candidate check and delivers them the background report when complete. The blockchain technology allows HR teams to share references with applicants, so that the latter could re-use them throughout their career.  
Zinc app functionality
Streamlined approval process
Throughout the day, managers need to sign lots of documents to approve employees' working hours, vacations, sick leaves, and similar. Despite being standardized, these processes often remain slow and associated with big delays. Employees have to send documents back and forth, waiting long hours or even days for managers to review and sign off. By contrast, modern solutions with the approval feature often have automated reminders that prevent process bottlenecks. 
In large and mid-size organizations, managers and employees may have a hard time remembering who is authorized to sign what document. Personio is HR software that sends automated notifications to HRs to review and approve requests in the swipe of a finger. Such a functionality makes it clear who is responsible for approving what documents and when the user needs to sign them, making the approval process smooth and trouble-free. 
Personio app functionality
Job description generator
Copying and pasting job descriptions is a dead weight for HRs who aim to attract the right people in the organization. Having a description that doesn't actually reflect what a company is searching for resembles smoke and mirrors. So it's extremely important that managers remain specific in their job descriptions in order not to end up with unfilled positions or hires that don't live up to company's expectations. 
Yet, writing job descriptions from scratch can be rather time-consuming. The automated job description process helps to solve this problem by reducing time spent on crafting documents. For example, a job skills generator is a feature that helps to write down skills for job descriptions using AI. The only thing users need to do is to enter the job industry and job title. The technology offers a set of skills that HRs can select from. The next step is to click on the right skills in order to generate relevant job responsibilities. 
Below, you can see an example of the HR tool with an automated job description generator called Job Description.ai.
Job Description.ai app functionality
A mood tracker
The mood tracking feature helps to understand the level of employees' satisfaction in real-time to support healthy work culture. Besides, this functionality often enables users to report specific factors that are influencing their morale. 
Coming back to the employee engagement app we've built for our client, the solution has the workday rating feature that helps managers understand how satisfied their employees are with their organization. This feature allows businesses to quickly respond to changes in employees' mood, preventing their burnout. 
Mood tracking feature
The employee engagement tool also has a moodfactors scoring panel, where HRs can find a visual representation of the survey results. In this way, they can become better aware of specific factors that are affecting employees' mood.  
Moodfactors scoring panel
Wrap up
Automation has dramatically changed the way HR teams are recruiting and managing employees. One of the main benefits of HR process automation is that it helps specialists save time and, as a result, become more productive in their work. Many tech startups have already understood the importance of automation software and are flooding the market with innovative solutions.
With many technologies available on the market, you need to cooperate with a vetted software development company to win this fierce competition. JatApp is a software vendor with a seven-year experience in development of HR automation solutions. Our company has access to the largest pool of tech talent in Eastern Europe, which helps us deliver products that stand out from the crowd. We have many awards in HR software development, including recognition for being one of the top 20 most user-friendly applicant tracking systems. 
Want to cooperate with us? Leave us a note and we'll come back to you as soon as possible.