If you have ever been registered on a dating app like Tinder, you know how it works: a swipe right means you like a person, a swipe left…not so much. However, a swipe of a finger is clearly not enough for building long-term committed relationships. To live happily ever after, the person you found attractive has to like you back. Moreover, both of you should be willing to work on your relationship. 
But surprisingly enough, dating has much in common with fintech development outsourcing. It's important that not only you were fully satisfied with your team, but your employees enjoyed working with you, too. When you're planning to build a product, probably all you can think of is how to find a software agency that you can trust. We at JatApp have been working on fintech projects long enough to claim that it's only half of the battle. What you should also ask yourself at this stage is: How can I help my service provider meet all my needs? 
Even if your fintech developers won the Programming Olympics, it's highly likely they still have little to no knowledge about your business. They haven't attended your every Zoom meeting or haven't shared an office with your team for five years in a row. So, instead of sitting and waiting for them to impress you, take the initiative and be open for cooperation. 
There are tons of articles on outsourcing companies and fintech development teams, but very few on clients. This has pushed us to write a blog post on how to be a great client that helps their outsourcing partner develop a solution without any hurdles and unpleasant surprises. So, let's begin!
Common types of engagement at JatApp
We at JatApp have three types of engagement models: project-based outsourcing, dedicated team, and team augmentation. Let's find out what you'll need to do under each of these models to assist in building a high quality fintech product. 
Project-based outsourcing
Project-based outsourcing means that you give full control over your project to a software development company, from concept to launch. Under this model, you can neither worry about team management, nor get involved in the recruitment process. Also, forget about administrative concerns, which are synonymous with team organization. A trustworthy service provider will cover such things as rent, Internet, utility, accounting, payroll, and so much more. 
JatApp has vast experience in working under this engagement model. Not so long ago, we built a payroll application for one of our German clients using project-based outsourcing. Our client didn't have to actively participate in each stage of product development and could limit communication with our team to occasional chats on Slack and meetings once in two weeks for presentation of demo versions. Therefore, the customer was able to concentrate more on core business tasks and think about other ways (except our payroll app, of course) to keep his employees satisfied.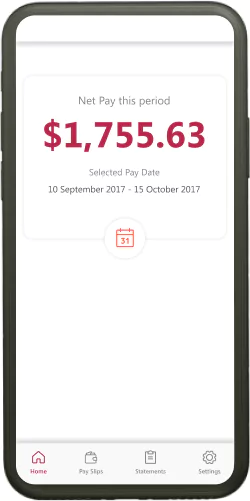 Payroll app functionality

Dedicated team
A dedicated team model is when a software development company provides you with a fintech development team fully dedicated to your business and project. These teams are recruited based on your unique requirements and are ready for long-term collaboration. The biggest difference with project-based outsourcing is that dedicated teams are managed by either your outsourcing partner or your project manager. 
Here's how it works at JatApp. From the moment you pass your requirements to us, we start a thorough screening process to provide you with the team that would be a great fit for your company. The next step is onboarding. We always make sure that all the necessary operational processes are in place for hassle-free cooperation and team management. Additionally, we implement security measures, offer hardware and software infrastructure, as well as handle all legal and accounting issues. 
From your end, we expect you to manage our dedicated team as if they're your in-house employees. Speaking of which, you can hire our software engineers after a year of cooperation. You won't even need to integrate them into your in-house team, since they already know your industry and your business. 
Team augmentation
Unlike the dedicated team model, team augmentation means that you simply hire one or few developers to expand your current in-house team. Basically, this is your go-to solution when you lack technical expertise or just need an extra pair of hands to build a fintech solution. The following engagement model allows you to handpick top talents and retain full control over development. As with all aforementioned models, you let a service provider handle all administrative hassles for you. 
When opting for team augmentation with JatApp, you'll pay a fixed monthly cost without any hidden expenses. Besides, our developers will report to your project manager on a regular basis. But if you don't have a project manager, you can find one at JatApp. Project managers serve as a bridge between you and our fintech software developers. 
First engagement: Let's go behind the scenes
When clients reach out to us, they merely know what to expect at the start of the project. That's why we decided to raise the curtain on the mystery behind fintech development. 
First things first, we gather all project requirements, which means that you need to have a clear vision of your software. If you run out of ideas, at least you should understand which niche you want to tap (payment gateway, banking software, personal finance management, insurance solutions, and so on). If there's no technical documentation, we get down right to the discovery phase. During this stage, we're discussing client's expectations from the solution, problems it's supposed to solve, competitors' features they like and dislike, and so on. 
Based on these interviews, we write a requirement specification and pass it on to our designers, who, in turn, build prototypes. If the client says yes after taking a look at each prototype, our project managers assess project scope and cost. As a rule, we rely on a three-point estimation method when evaluating the project duration. This approach enables us to envision realistic, optimistic, and pessimistic scenarios in terms of hours needed to complete the project.
A three-point estimation method
Tips for becoming a perfect client
Being a perfect client is subjective, you might think. However, by saying "perfect" we mean a lot of work and dedication on your behalf. Below, you'll find four pieces of advice on how to help a team safely get your project to the finish line. 
Set your expectations clearly
When starting any project, the very first thing to do is establish clear expectations for your relationship. How are you going to communicate? How often will you need updates on the fintech app development process? (if you're a non-technical customer or the team can't get the idea of your fintech product, you may need to hold meetings once or twice a week). 
By setting clear expectations right from the start, you can better cooperate with your team members. In this way, your employees would have a concrete idea how exactly they can meet your needs. It's also important to understand that some requests like full access to the development process or daily updates may scare away even quality outsourcing providers that don't want to deal with picky micromanaging customers. 
Our project manager, Nataliia Kryvdina, believes that the ideal customer is someone who always remains open to dialogue. "It's handy when a client shares lots of information about their product and their major competitors", she explains. In keeping with that, the ability to clearly communicate your needs becomes the key to comprehensive analysis of project requirements.  
In addition, you need to settle down on approximate deadlines for deliverables. A good customer bases their expectations on the project managers' estimates rather than their own wishes. One of our clients from the United States turned to us for fintech development expertise in building a payment gateway. Once all the requirements were discussed, we informed the customer that the project will last no less than one year. Our client didn't mind such deadlines, as they realized that building a bug-free payment card industry (PCI) compliance software takes time. 
Payment gateway functionality

Master the art of giving feedback
If you're using YouTube regularly, you've probably been puzzled by its recommendation algorithm, and we bet more than once. Users' video suggestions don't dramatically change when they press dislike or not interested buttons to stop the platform from recommending similar content. Imagine users' frustration when they block certain sources and then they keep coming back the very next day. 
Percentage of bad recommendations prevented by Youtube
This is an example of pointless feedback that doesn't do much to improve the situation. If you don't want similar results, you should learn how to offer your team constructive feedback. Here are some steps that you can take to provide more useful feedback.
Communicate with developers as a team member rather than an employee.

Connect your feedback to your goals to make sure that the team has a roadmap to success.

Give examples and be specific, avoiding such words as

bad

or

good

. 

Instead of sending private messages to developers, communicate with them in common chats.

Check whether your engineers understand your ideas and are on the same page with you.

Acknowledge that your feedback is subjective and always leave the door open to two-way conversation. 
Respect your provider and prioritize trust
Respect your outsourcing partner's time. Not responding to team members' questions or failing to attend scheduled meetings translate the message that the service provider's time isn't as important as yours, which may eventually affect your relationship. Also, a great customer approves the scope in time, so a programmer doesn't waste their time waiting for instructions. 
What's more, you need to trust your vendor and provide the correct information only. In fact, hiding some issues in your company may prevent your outsourcing partner from delivering a high-quality product at a set price and within an outlined deadline. 
Always choose value over costs
Concentrate on value rather than on price. The quality and security of your solution goes beyond the final cost. When it comes to fintech, a product full of bugs can lead to hundreds of millions dollars lost. This may get you in real trouble, resulting in damaged reputation beyond recovery. 
On top of that, when you try to cut down the project costs and speed up development, you can actually pay more in the end. If your engineers, bathed in sweat and gripped by panic, build your software in a rush, chances are they will have to commit to rework later on. This would mean extra development hours, and, as an outcome, additional unwanted expenses. 
Be a good client – we'll take care of the rest
Following all these guidelines may seem somewhat difficult at the beginning, but the final results will definitely pay off. What you'll get at the end is a great team that works like a well-oiled machine and a high-quality fintech product worth the praise. JatApp is always open to cooperation with good clients and has so much to offer you in return. Our company has been recognized as one of the top 1,000 outsourcing agencies in the world. Also, you can find positive reviews on Clutch from our fintech customers. Here's one of them: We are satisfied with their work and will happily discuss future development projects to support our continued growth.
Want to become our great customer? Contact us today and we'll reach out to you in the nearest time.