Despite the lure of competitive SaaS developers' salaries, some things stay stubbornly the same. The software industry lacks talented specialists, as up to 60% of all computer science graduates fail to pass the first coding course. And, as you might have guessed, talent shortage doesn't help with bringing SaaS engineers' salaries back down to Earth at all. 
Finding top coders without spending everything to the last penny can be challenging nowadays. But if you understand the factors that influence the cost of hiring them, you can find a way to cut down your expenses. In this article, the JatApp team will uncover the average SaaS developers' salary and reveal factors that affect their paycheck. 
But before we get started, let's take the time to discuss SaaS engineers' roles and responsibilities. 
What do SaaS developers do
?
Software as a service, or simply SaaS, refers to the cloud-based approach of delivering software, which users subscribe to rather than install or purchase. SaaS developers are programmers that stand behind the scenes of building such solutions. They should have a clear understanding of the SaaS pricing models, users' needs, and the technology stack required to develop such an application. 
The SaaS developer's responsibilities lie beyond writing the code for SaaS products – they're also challenged with identifying and fixing bugs, solving compatibility issues with other applications, and optimizing the codebase, when needed. Moreover, they should make sure that the solution meets the increasing demands of its user base by adding new servers or optimizing the code for improved performance.
Another responsibility of SaaS engineers is to ensure that the SaaS product, which is accessible over the Internet, is 100% secure. This includes applying additional security measures, like authentication or encryption, that help to protect users' data. 
Factors influencing SaaS developers' salary
On Glassdoor or similar sites you may come across salary ranges for SaaS developers, which can make you wonder: "Why is there such a big difference in how much these professionals ask for their work?" As a rule, there are four major factors that define the cost: the developer's experience, tech stack, location, and education. 
Experience
Let's say you're learning Spanish from books and then you've got a chance to visit Spain. Once you arrive in Barcelona, you'll probably realize that it would take years to become fluent in this language. Learning a programming language is like studying a foreign language. You can easily get a grasp of the basics, but it's very difficult to master it. So the more years of experience are behind SaaS developers' backs, the more skills they've got. A deeper knowledge of software development makes them more valuable to employers, raising their salary expectations.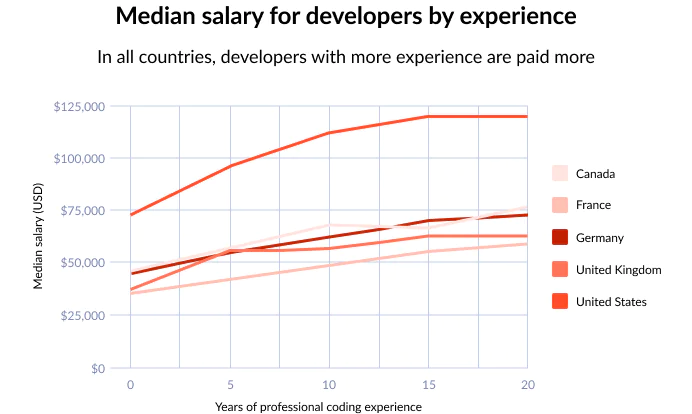 Median developers' annual salaries by experience 
With more years of experience, software engineers usually take additional roles and responsibilities, like managing teams, leading projects, or mentoring junior developers. This is another reason why some senior SaaS developers pull in six figures. Furthermore, senior developers that constantly deliver high-quality software can become well-known experts in their industry. Such recognition eventually results in better career opportunities and also higher paycheck. 
For you to better understand the difference in pay among junior, middle and senior SaaS developers in the United States, take a look at the comparison table below. 
As you can see, the gap between junior and senior developers is huge, and so is their expertise level. If you want to build a simple SaaS solution with a limited number of features, there's no need to splash out on seniors. However, for more complex projects, you may want to invest more in development and find teammates that have at least four years of experience in their resume.
Tech stack
Tech stack is another important factor in the mix. O'Reilly's 2021 Data and AI Salary Survey shows that SaaS engineers who have good command of niche programming languages have all the reasons to set the bar high in terms of their salary expectations. Because of talent shortage, they're attractive for most recruiters and can also dictate their terms more freely. 
SaaS software engineers that write the code in less common languages, such as Rust, Go, or Scala, may earn up to $180,000. By contrast, coders that work with the most popular programming languages, like Python and SQL, take home a much lower salary ($150,000 and $144,000, respectively).
Developers' salaries by programming languages
Today, many employers seek after full-stack developers, mainly because they are able to work with both server and client-side of the code. Instead of recruiting a front-end and a back-end developer, they hire one full-stack software engineer to complete all development tasks. Full-stack SaaS developers have a bigger scope of work and are expected to have a larger skill set, which cannot but reflect on their salary package.  
SaaS developers's annual salaries in the United States
As you can see in the table above, the differences between salaries of these developers isn't that big. But if you decide to go without a full-stack engineer, you'll need to fork out for the annual salaries of both front-end and back-end developers (Cha-ching). 
Location
Finding competent SaaS developers can be hard. Finding top talents who are willing to work for a reasonable fee is even harder. Especially if you're living somewhere in the United States, where the average salary for a SaaS developer is around $124,000. 
The good news is that SaaS engineers' salaries differ from country to country. If you want to reduce your costs, you should consider outsourcing your project to professionals from the Netherlands or Germany, whose salaries are significantly lower (around $73,000 and $72,000, respectively).
Outsourcing to Eastern European countries won't hit your pocket, either. For example, you'll have to pay only $60,000 per year for Ukrainian SaaS developers. Being ranked as the top outsourcing destination in Eastern Europe, Ukraine is home to many talented developers. This way, you'll kill two birds with one stone – you'll get a high-quality solution for a moderate price compared to the Western markets. 
Education
Last but certainly not least, developers' education plays an important role when defining their salary. Master's degree in Computer Science allows SaaS engineers to gain deep knowledge of programming languages and build strong problem-solving and critical thinking skills. Naturally, this makes them more effective in their role and, as a result, more attractive in the eyes of employers. 
Pursuing a higher education may also show an individual's commitment to software engineering. Recruiters tend to hunt for such a quality in SaaS engineers, readily accepting their rising salary expectations. 
Hire SaaS experts at JatApp
Experience, tech stack, location, and education are the things that matter when it comes to the SaaS developers' payroll check. Having read about the principles of how the SaaS developer's salary is formed you are now able to find a loophole to cut down your hiring costs, whether by working with juniors for simple projects, outsourcing to countries with lower wages, or opting for full-stack developers. 
Another proven method to keep your cost to a minimum is to partner with JatApp. We are a software development agency based in Ukraine that has access to a large pool of talented SaaS engineers that can cut down your development expenses by up to 60% compared to the American and European markets. Our agency has been building SaaS products for clients from all over the world for more than seven years. Thanks to the high quality software we deliver, our cooperation with clients normally lasts for three years or more. 
Want to hire SaaS developers for your upcoming project? Contact the JatApp team to learn more about our terms and conditions.