While many investors keep showering fintech giants, like Monzo, with lots of money, experts predict that smaller neobanks will shine even brighter in the near future. However, there's an important caveat: they have to keep abreast of new trends and innovations to be able to scale fast.
As fintech experts and neobank advocates, the JatApp team would be glad to share some trends and strategies that'll help you grow your business, be in the black, or even become a market leader. So when you want to get your startup to a whole new level, you should definitely keep reading. 
Five strategies to make sure your neobank doesn't fail
Fintech is a cutthroat market where only 5% of neobanks are profitable. If at this point you get discouraged and want to close this article for good, let us tell you one more thing. Without any exaggeration, fintech startups that implement the right strategies are literally bathing in investors' money. Statistics show that neobanks comprised 12% of all investment in 2021. This means that you can be among those winners, if you choose the appropriate growth strategy, of course. 
So without further ado, here are some tips we'd give to neobank founders to stay afloat. 
Put clients' needs first
Always remember that your customers got you to the point where you are right now, so you need to prioritize them along the way to growth. Otherwise, if they feel that your product no longer serves their needs, you risk losing them. 
Also, scaling means that you'll have new client communities with diverse needs. To stay appealing to a wider audience, you should never stop engaging with your customers and strive to better understand what they like and what they don't. In fact, successful neobanks regularly track and improve performance at every stage of the customer journey. 
Customer centricity
Don't become as cumbersome as many incumbents
Neobanks were born to challenge traditional banks, most of which remain rather cumbersome to pivot in this fast-changing market. One of the biggest pitfalls for anyone scaling a neobank is the natural desire to continue to use proven strategies that were working just fine in the past. By doing so, however, you basically become no different from legacy banks you compete with. 
When growing a fintech startup, you should adopt a flexible mindset, try new things, and always, ALWAYS, stay agile. Just because you successfully implemented certain strategies a couple of years ago and they still work fine for you doesn't mean that new and more effective ways of solving problems haven't popped up during this time. 
To cultivate the agile culture, you need to have regular meetings with your team to share experiences and encourage new approaches. As a viable option, you may build a database of improvement, where each team member can voice their concerns or suggest ideas to optimize processes or replace current technologies. 
Leverage already built technologies
Don't try to take care of everything by yourself, unless you have as many hands as Shiva. When scaling, you need to understand when you need to build the functionality on your own and when to purchase the integration. Therefore, you should be always open to strategic collaboration with other companies, whose technology you can use to expand.
Partnership with other agencies will offer you access to new neobank features without the immense expenses on your side. Relying on existing technology from third-party vendors can also mean less headache in terms of compliance and product development. 
Build a community and be transparent
Traditional banks and transparency are the words that rarely appear in one sentence. Top neobanks capitalize on this fact by engaging the public in different internal processes. Take one of the biggest neobanks, Monzo, as an example. This neobank has created a roadmap to pull back the curtain and reveal features they've been working on. 
This is especially handy when you need to gain customers' feedback on the functionality you're planning to build. When Monzo was thinking about implementing ATM fees, the company made a survey to understand how clients want to be charged for withdrawing their money. This way, the neobank made sure its clients felt valued and would tolerate the upcoming changes.
Monzo's survey regarding ATM fees
Run distributed teams and hire top talent globally
Don't expect that every market you're entering will have a software development team perfectly fit for your project. So, why limit yourself to searching for talents only in your local area? Run a distributed team and look for employees in different countries, especially where the cost of living is lower. 
Software engineers, say, in Ukraine will ask much less for their work than a developer from the United States with the same level of experience and knowledge. For example, if you augment your team with the help of JatApp, you'll be able to decrease your expenses by up to 60% compared to the Western markets and still get high-quality software. 
Having discussed effective strategies, let's dive into the current hot trends you can adopt to scale without much stress.
Hot trends to keep an eye out for
Neobanks are synonymous with innovation and cutting-edge technology. For banking startups to scale, it's important to remain up-to-date in terms of new tendencies that are driving the market. With that being said, here are the most prominent trends for neobanks to adopt today. 
Focusing on niche segments 
Targeting niche segments can be a point of differentiation for many neobanks struggling for a place under the sun. Delivering banking services that meet the needs of a specific community, be it teenagers or Asian Americans, can make it easier for you to scale. That's because you'll provide the real value to them that they wouldn't find elsewhere. 
Let's take a look at Nerve, another example of neobanks. This fintech helps musicians deal with their unique financial challenges, like irregular streams of income. Since most banks focus on customers with steady paychecks, artists are willing to pay for Nerve's services to get the perks that help them be more financially stable, such as the ability to monitor what they're earning from different platforms or cooperate with other musicians.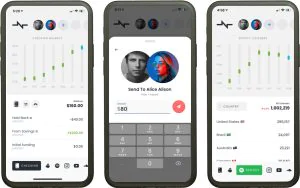 Nerve app functionality
Serving the unbanked population
Traditional banks tend to shy away from populations with a bad credit history, lower economic status, lack of a formal ID, and so on. The research by Federal Deposit Insurance Corporation shows that nearly 4.5% of the American households remain unbanked. 
Household unbanked rate in the United States
Neobanks target the underbanked and unbanked population whose financial needs have been long ignored. For example, Daylight, a New York-based neobank, has a mission to improve the quality of life for the LGBTQ+ community. The statistics suggest that this minority group earns less on average and is more likely to have less pension savings. 
Daylight invites the LGBTQ+ people to open bank accounts and offers clients debit cards, allowing them to use fictional names. Plus, the solution has the analytics feature that shows users how much they spent on LGBTQ+ unfriendly stores. It has nothing to do with the cancel culture, but it's rather about encouraging businesses to be more considerate of minorities' problems. 
This fintech understands the unique challenges of queer people, helping them achieve their family-planning goals. With Daylight, clients won't feel any microaggression towards them, no matter whether it's intentional or not. 
Daylight app functionality
Embracing banking super apps
The buzz around banking super applications shows that modern clients are looking for something more than just online banking. With super apps, clients can access various services, ranging from insurance and banking to real estate and mobile payments, via one platform. Such digital solutions cater to many needs at once and usually offer superior customer experience. 
WeChat is a Chinese neobank unicorn that often comes to mind when talking about super apps. With this banking solution, a user can, say, message a friend to catch up in a coffee shop, buy a piece of cheesecake there, and order a taxi to head back home. With such a level of convenience, it's not surprising that this bank amassed $17.49 billion in revenue.
WeChat app functionality
Start now, scale fast with JatApp
Many venture capitalists feel optimistic about fintech companies, but this doesn't mean that neobanks can work through the sleeves, forgetting about innovations and market trends. If neobanks want to get to this lucky 5% of profitable startups we mentioned, they should have a clear vision and rely on technology to create a better future for the community they serve.
JatApp has been delivering software for neobanks for seven years now. We provide fintech solutions that let clients enjoy managing their finances right from their smartphones. And if you visit our page on Clutch, you'll see a 4.9-star rating and realize it isn't just bragging. Most of our customers don't want to leave us and keep cooperating for three years.
If you feel that it's time to scale your neobank, JatApp is here waiting for your message to start our collaboration.