In the wake of the global pandemic, most construction software development projects were put on hold, challenging the future of the entire industry. Construction, as the world's least digitized industry, has been hit hard by the crisis, as too many core processes were implemented with pen and paper or Excel, at best. 
Today, the sector has started to adopt new tech solutions, but the progress still remains slow and modest. The lack of technological innovations on construction sites results in increased costs, job delays, and workplace safety hazards. This gave rise to construction tech startups aiming to address these challenges.
Based on a 6-year expertise in custom construction software development, in this article the JatApp team reveals the major reasons why construction fails to abandon the analog age and discusses how technologies can address problems across the entire value chain. 
Reasons for setbacks of construction tech
The engineering and construction (E&C) industry shy away from innovative solutions, so that construction specialists end up wasting nearly a third of their time on non-optimal operations. Here are some key factors holding back the sector, making digital transformation particularly problematic.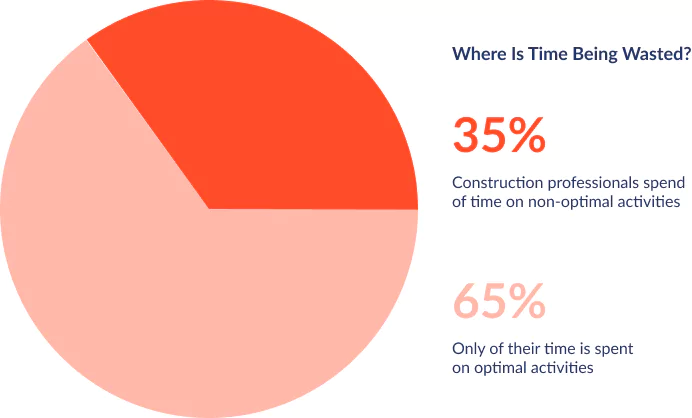 The findings from construction leaders' survey
Lack of replications in construction approaches
Most construction projects are one-of-a-kind campaigns, with  custom requirements that affect design and delivery methods. As construction processes are often unique, it's rather challenging to implement a digital solution that would be suitable for numerous projects. The only exception is the long-term projects carried out for several years, which givesE&C companies enough time to introduce innovations to already established approaches.
Fragmented construction projects
Construction projects are generally divided into multiple parts of the value chain. With so many companies typically working together, projects become a perfect illustration of the old saying when "too many cooks spoil the broth". Adopting new construction software solutions presupposes managing changes across different organizations, which is a tough task, especially when considering the short-term nature of most projects. When many businesses are working on a single project, miscommunications are also not uncommon, costing the sector more than $31B each year. 
Ever-changing business partners and high turnover
Normally, a new project in the construction business requires a new set of companies to work together. At the organizational level, contractors have a similar concern, as they often suffer from high turnover rates. Changing partners coupled with high turnover makes it burdensome for companies to pass on software for the construction industry from one project to another. 
Challenging learning environment
Employees on the construction sites have conditions that are far from those in which office staff members work. Few sites are in fact appropriate for educating employees on how to work with new software for construction. Besides, builders typically have little to no time to learn how to use advanced technology, as the construction execution process is ever moving. 
Now that you're aware of challenges making the construction industry slow to innovate, let's talk about how technology can help E&C companies address their problems in different stages of the value chain. 
How technology can resolve challenges across the entire value chain
Despite all challenges mentioned, few early tech adopters are now finding new ways of solving the old sector's problems, whether it is missed budget or unsafe working conditions. Due to the fragmented nature of E&C projects, different tech companies provide technologies for different stages of the construction process, namely project conception, design, pre-construction, construction implementation, closeout, and construction management.
Project conception
At this value chain stage, developers and/or real estate owners create site proposals and may cooperate with lenders to address the financial side of the project. However, managing construction loans can be both time consuming and exhausting, considering complex loan draw request procedures. 
The use of technologies, like Rabbet, help users to proactively identify errors in the loan process. More specifically, the construction software automatically sends alerts in case of missing documents, incorrect data entry, or compliance violations.
Rabbet functionality
What's more, E&C companies can use technology to streamline development of site proposals. As an example, Spacemaker asks developers to upload a 3D model of their asset and enter project parameters. Then, the company's construction software solution powered by artificial intelligence (AI) analyzes numerous asset layouts, providing the best possible site plan. 
Spacemaker functionality
Design
Construction software developers collaborate with architects, designers, and engineering teams to move from concepts to blueprints. Since designers and engineers often work with little coordination from contractors, they can find it cumbersome to determine how their ideas affect the project timing and final expenses. The lack of cooperation between teams can eventually result in the need to make considerable changes, which in turn translates into extra time and costs. 
Of all stages in the value chain, design is the most progressive in terms of technology adoption. Autodesk is one of the tech companies that enables design teams to develop 3D models and, using Augmented and Virtual Reality technology, visualize buildings as if they were already constructed. 
Autodesk app functionality
Pre-construction
At the pre-construction phase, the project design is converted into a detailed feasible construction plan. This stage involves a wide range of processes, like bid management, scheduling, finding workforce, and such. Despite its complex structure, pre-construction remains the most resistant to new tech solutions. Contractors continue to rely on subjective decision-making and Excel Sheets for most pre-construction operations, leading to costly errors and wasted time. 
Construction software development companies, such as SmartBid, help contractors save time while taking hassle out of administration processes. The company provides not only such basic functionalities as project data sharing and subcontractor data management, but also facilitates the subcontractor prequalification process helping to find most competent candidates. Also, the technology compares subcontractors' bid proposals to provide data-driven material and cost estimations. 
Subcontractor prequalification process with SmartBid
Alice Technologies is another example of a company that deals with pre-construction process optimization. The company offers a machine learning solution that takes all parameters that contractors included in their plans and generates most effective construction options in minutes. Contractors can change their variables to go through various scenarios in a couple of simple clicks. In such a way, E&C companies can streamline their core project resources, such as materials, labor, and equipment, cutting down the costs by 11%. 
What-if analysis by Alice Technologies machine learning
Construction implementation
Construction implementation is normally performed by general contractor's in-house employees and subcontractors. The main challenge during this stage is to assess the real-time project progress and impacts of each decision. As a result, instead of developing a strategy to avoid potential project challenges, team members have to deal with such problems once they occur. 
Mosaic is one of the E&C market leaders that reshape the entire construction implementation stage. Its software product transforms traditional construction plans into detailed reports on how to build real estate on site with less materials and fewer laborers. With this technology, real estate developers can save their time and focus more on business activities, like sales, marketing, land acquisition, and such.
Building solutions for on-site safety management is equally important at this project stage. As an example, the Safesite app is created to prevent builders' workplace injuries by encouraging safety reporting. The Safesite application has a wide range of important functionalities, including risk assessment, custom inspections, follow-up actions, real-time alerts, and so on. If a safety issue arises, the solution offers a map of the hazard location, allowing workers to avoid a myriad of risks associated with construction. 
Safesite functionality
Closeout
As the project is nearing its end, contractors need to manage a massive amount of warranty documents, as-built drawings, and other paperwork that has to be provided to the project owner. This management process can take dozens of hours in certain cases. Yet, closeout is an increasingly important stage when contractors need to end the project on a good note. 
To-date, there are a range of construction software technologies that help to digitize the process of closeout. For instance, Buildr, a California-based company, helps to automate closeout operations. Contractors can submit all their documents and the solution then converts them into a PDF file adding clickable links, which makes it easier to find a necessary document when needed. The technology also offers an alert system to notify subcontractors who failed to upload required documents, so the general contractor has no worries about following up. 
Closeout with Buildr solution
Construction management
Construction management refers to the stage that comprises all phases mentioned earlier. The construction management teams help with the project execution, from conception to closeout. Their tasks include, but are not limited to project financing, construction data analysis, HR/payroll, and so on. Managing construction is not an easy task, since actions of all parties involved in the project need to be aligned. 
Procore is one of the construction management softwares that enable to monitor the end-to-end process with no hassle. With this technology, users can schedule tasks, track progress, and handle construction specifications. The construction project management software allows different teams to keep the communication lines open, contributing to a more efficient decision-making process.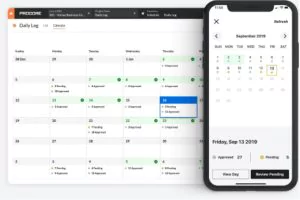 Procore scheduling software feature
Bottom line
Without tech solutions, all phases of a construction project may have a great deal of uncertainty, whether in terms of timing, budgets, or safety assessment. Technologies can bring a lot of accuracy and efficiency to this journey, ensuring a virtually seamless construction process. 
Yet, transforming the construction sector with an innovation is easier said than done. To build a custom construction software, you'll need assistance from a competent software company. JatApp has a deep understanding of the E&C industry and is proud of completing more than 200 software projects with a 99% satisfaction rate. Our team can help you to create an innovative construction software products that streamlines construction business processes in any part of the value chain. What's more, if your in-house engineers need more skills to develop software, we can assist you in augmenting your team with our IT professionals who are familiar with all nuances of the construction industry. 
Need a hand? Send us a note and we'll reach out to you at the earliest time possible.