​​In the recruitment process, 99% of Fortune 500 companies rely on applicant tracking systems (ATS). These systems let hiring teams handle mountains of applications to find the right job fit quickly and with no hassle. Apart from job applications, they help to optimize the interviewing and follow up processes. As a result, companies using ATS can stand out from their rivals with seamless candidate experience.
JatApp has been long enough in HR software development to claim that building a custom ATS program may seem tricky and many business executives wonder where to start. That's why we've prepared a step-by-step guide on how to create an ATS that will help you stay on top of your competition. 
Watch out for innovative solutions
When building an ATS, the very first step is to search for some latest and cutting-edge solutions on the market. Real world business cases will serve you as an inspiration and give you ideas of what products are trendy right now. WIthout further delay, let's discuss leading ATSs that managed to raise millions in funding. 
PitchMe
The recent evidence shows that 60% of candidates aren't shortlisted because of the outdated information on their competences in their resumes. It's often the case when employers forget to timely update their profiles and end up with 80% of applicants lacking two recent job positions. PitchMe is an innovative solution that relies on machine learning (ML) and data science to generate candidates' soft and hard skills by analyzing not only conventional sources, like resumes, but also job seekers' digital behavior, like social media activities, whether they have personal websites or blogs, and such.
PitchMe app functionality
Another peculiar thing about this ATS is that it helps to address biases by offering applicants' profiles anonymously. In such a way, employers' can see only candidates' experience and skills, having no idea about their age, appearance, gender, or ethnic background. 
An example of an anonymous profile on PitchMe
Guide
We've all been there. You come in for an interview and receive a lot of confusing instructions or get intimidated because of not knowing what questions will come next. Guide, the latest ATS, aims to change that by making the candidate experience less stressful. This online platform enables employers to share documents, links and videos about the position and their team with their applicants. Moreover, the app offers real-time analytics, meaning that managers can view who's likely to quit and who's engaged. 
Guide page with analytics
Companies using Guide can better communicate with their applicants by displaying what interviews are next, when, about what, and with whom. Notably, 67% of applicants are more likely to accept a job offer, if an employer provides constant updates on the hiring process. It's not surprising that the ATS solution has helped many businesses win top talents, raising an overwhelming $8M of capital this year.
Guide app functionality
HireRabbit
Typically, top talents already have jobs and are too busy to look for other opportunities. HireRabbit is one of the leading solutions that enables companies to reach out to the top candidates in their free time. The ATS lets hiring managers set up culture and job tabs on the company's Facebook profile. Recruiters can add company's details, job postings, videos, photos, and so on, in order to create a custom tab. 
HireRabbit app functionality
HireRabit not only helps to create these customized Facebook-based job sites, but also sync with the company's other ATSs to automatically create job postings on Facebook. Once those are published on Facebook, users can share, like, and even tweet them. What's more, managers can access an analytics dashboard to see the results of their recruitment strategies, including things like views per job posting, pageviews, and similar. 
HireRabbit page with analytics
Choose valuable features you can capitalize on
Choosing the right features for your ATS is the next step. Systems that lack innovative features don't serve business goals and fail to successfully compete on the market. Let's explore what you may add to your future product to gain competitive advantage. 
Advanced analytics
Advanced analytics help managers to gain valuable insights into applicants' experience, so there's no need for them to analyze mountains of candidates' data. Artificial intelligence (AI) shows which recruitment approaches are working and which are not based on the historical performance and industry standards. Automated notifications remind managers when there's a chance of a missed benchmark. 
More than 50% of applicant drop-off is associated with poor process, technical issues, and difficult instructions. Such a solution as Jobvite allows managers to analyze the recorded sessions, offering a visual representation of what applicants are doing on a job site. With this ATS tool, employers can timely detect a problem that causes candidates to quit. 
Jobvite advanced analytics
Employee testimonial video
Employee testimonial video is the innovative feature that transforms the applicant experience. More specifically, managers can add videos with staff testimonials for job descriptions to target applicants that look for open positions on the company's site. In these videos the staff speak about their company in their own words, showing what it's like to be a team member. This helps to humanize the recruitment process and turn top applicants into hires. 
As an example, ICIMS allows employees to act as company's ambassadors by making customized videos and answering common candidates' questions. This ATS feature also includes templates and editing tools, which enables companies to make polished content without high production costs. ICIMS offers this functionality not only to attract talent, but improve the onboarding experience as well. Recruiters can add these testimonials to job offers in order to promote a sense of excitement and belonging in new hires. 
ICIMS employee testimonial videos
Employee referral portal
Referred applicants are 55% faster to recruit compared to staff members sourced through job sites. If participation in the company's referral program leaves much to be desired, managers can use an employee referral portal to address this issue. This feature enables current employees to link their social media accounts and show open positions to their friends hassle-free. 
Many systems allow hiring managers to track progress in the hiring campaign and alert an employee in case of any changes in the referred candidate's status. Solutions like Yello go even further and measure how many referrals a worker brings into the organization to calculate rewards and bonuses. This not only helps to find top performers but also supports employees' sense of excitement and healthy competition at the workplace. 
Yello app functionality
Select the right pricing model 
Your ATS is going to compete with other systems via pricing. Therefore, your final step is to choose a model that will provide you with the most significant returns. Here, we explain the most common pricing strategies to help you decide. 
Per-user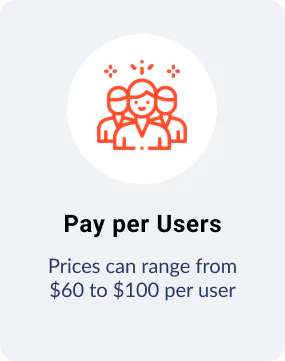 Per-user pricing means that a company needs to pay for each worker using your ATS. The given strategy is popular among startup-friendly ATSs, as long as the initial expenses for software are relatively low. You can expect greater earnings as the business of your client scales. The price for such systems may range from $60 to $100 per employee. 
With this model, you may also target organizations that frequently use an ATS in their business operations. Otherwise, your clients, who are typically charged on a monthly basis, would refuse to overpay for the product. 
Per-job-posting
The per-job-posting model means that your clients will be charged for each applicant who responds to their ad. The following model may also presuppose that your client will have to make payment per job position. If the position is closed, your service won't cost a penny to your customer. The price for using such a system is approximately $5-20 per job opening. 
This pricing model may be a good fit for you, if your target audience is businesses that recruit on a constant basis. You can expect high returns if you focus on customers that recruit a lot of applicants at once. If your target client doesn't hire on a regularly, their expenses may fluctuate in a way that could make it challenging to define accurate budget estimates, which may eventually force them to look for another ATS vendor. 
Flat fee 
Another common model is a flat fee, meaning clients will pay a fixed sum on a monthly basis or make a one-time license purchase. Most ATS vendors usually charge around $350 for the use of their software each month. 
Many businesses opt for the given strategy to make the budgeting process a breeze. To earn greater revenues, you may concentrate on large and medium-sized companies, as they typically prefer single investment and consistent cost to better predict their long-term expenses. 
Final thoughts
Application tracking systems have become one of the most effective ways to search, attract, and recruit qualified candidates. Businesses of all sizes can implement these systems to improve applicants' experience and attain greater efficiency in the hiring process. Comprehensive ATS benefits employers, recruiters, and hiring managers in a number of ways, ranging from creating more appealing job descriptions to automating teams' tasks. 
If you want your product to successfully compete with market leaders, outsourcing ATS development to a reliable software agency can be a good idea. JatApp has been building ATS applications for six years and has more than 200 projects to our credit, many of which are white label HR solutions. One of our systems has been included in the top 20 most user-friendly ATS. If you want assistance in ATS development, don't hesitate to contact us and we will be happy to discuss project details with you.