"Digitalization of everything" hype is so loud that you've probably caught yourself thinking: "If digital solutions improve every single business operation, can they make recruitment more efficient?" And that's the moment when a shining light bulb might appear over your head. 
Recruitment tech landscape is expanding today. Fortune Business Insights reports that recruitment software market size will be $3, 095.8 million by 2025. This growth is easy to explain: almost 94% of recruiters admit that using digital solutions improves the hiring process.
Again, there's a reason why hiring professionals think so. Recruiting software advances many activities within the hiring process such as sourcing, applicant tracking, recruiting analytics, background checking, employee onboarding, and so on.
The market offers so many opportunities, that getting a choice paralysis is a very likely scenario. That's why our team is going to describe all types of recruitment software to help you make up your mind about what recruiting solution you want to develop.
Innovation drives the market
Recruiting software isn't a tech novelty, but with a ramping-up innovation growth it is becoming the hotbed for startups. Today, there are three main innovations niches that you can spot in modern recruiting software:
Artificial intelligence (AI).

By using smart algorithms,

recruiting software

is able to connect companies with matching candidates, provide comprehensive data analytics, and even work as autonomous chatbots. Also, AI recruiting solutions can enable job applicants to get more accurate feedback and find how they can fill their skills gap, in case they didn't get the job offer. 

 
Blind hiring.

Bias, even a subconscious one, is a serious problem in the hiring process. Apart from an obvious probability of missing the right talent, recruiters are often prone to omit numerous social justice issues, thereby depriving underprivileged groups of career prospects and making the company's team less diverse. That's why solutions that enable recruiters to run hiring campaigns with better objectivity and inclusivity are such a prominent tendency at the market.  

Talent rediscovery.

Companies can't hire all applicants, but some of them may have skills that are also good for a similar position. Databases of applicants that didn't get the offer increase companies' access to the talent pools, thereby making the hiring process faster and cheaper in future. 
Different purposes, different solutions
To classify recruiting software properly, it's necessary to understand what purposes it can serve. For now, we can single out three major types of solutions according to their end goal: talent search, interviewing, and onboarding. 
Needless to say,  a complex human resource management system (HRMS) can address all these purposes at the same time, but such solutions are more fitting for large enterprises, so development of individual applications is more common today. There's much to discuss, so let's look at the above mentioned types of recruiting software without a further ado. 
Pooling the right people
With the growth of global outsourcing and popularity of remote work, companies are able to access a greater number of talents. However, quantity doesn't mean quality, so businesses need to go the extra mile to find people with the right skills. There are several technologies that automate recruitment process while making it more accurate and efficient: 
Job boards
Many, many years ago, people were looking for a job by plucking a piece of paper with a phone number from a bulletin board. Nowadays, even a digital job board is a usual thing, and, of course, such HR recruiting software won't give any competitive advantage.  
However, artificial intelligence is a technology that makes job boards a cutting-edge solution today. For example, a startup Gloat uses AI to analyze various data sources such as employment records, resumes, and LinkedIn profiles to understand a candidate's experience in a matter of seconds. Moreover, the solution predicts where your applicant would like to move next and which skills they're likely to develop in the future. 
One of tabs in Gloat
In such a way, companies can hire the talents they need and track their career paths to ensure staff retention. The startup is valued around $400 million and raised $57 million in funding for developing its business operations, so this kind of job board software is likely to attract investments like a gigantic magnet in years to come. 
Applicant tracking systems
Applicant tracking systems (ATS) is a large cluster of recruitment management software. ATS is a recruitment platform, where companies get all piles of hiring data together: job postings, resumes, applicant profiles, interview schedules and records, and such. This type of recruitment tool automates the search for valid candidates by using keywords and "knockout" questions to filter out profiles with relevant experience and skills.  
Jobscan is the most prominent solution in the ATS category. When a candidate engages with the ATS to apply for a job, they're offered to answer so-called "knockout" questions: a list of checkboxes the job seeker needs to fill. Then, the system will decide whether the applicant proceeds to the next stage. If they are not, the system cold-bloodedly rejects these candidates. 
Jobscan search screen
Still, you can make your own ATS more human after all and integrate a feedback feature, since 75% of job seekers are ghosted after an interview. Also, the above mentioned talent rediscovery idea perfectly matches with AI-powered ATS: a candidate can be lucky enough to fit another job opening in the same company.  
Referral recruitment
Regardless of how smart digital solutions get, we humans still tend to rely on word of mouth. For that reason, referral-based recruitment platforms have become another category of recruiting tools that emerges. 
Humanity managed to survive due to recommending each other the best locations for mammoth hunt, so telling about a skilled worker who looks for a job is not a big deal as well. The big deal is a London-based startup Circular.io that got $10 million from investors in pre-Series A funding round. There's no need to be a marketing expert to say that  we can expect more referral recruitment solutions soon enough.
How Circular works
The platform creates a community of companies and recruiters that recommend each other talent they didn't hire. The principle is simple: a company recommends some of its applicants, and it can be sure to get a good candidate recommendation in return. 
Each business gets assigned a personal real-life Talent Advisor who works with the company to propose various candidates recommended by other organizations. As a result, companies can be confident that they hire the best and most appropriate professionals, while job seekers are sure that their talent won't be left unnoticed. 
Smart recruitment marketplace/platform
This type of solution is similar to job boards, but the recruitment marketplace is usually devoted to a particular industry or focuses on hiring university graduates only. Take a look at the following examples to get what we mean. 
Many industries have serious problems with effective and transparent hiring processes, so a need for adoption of solutions that can break all industry-specific barriers is extremely high.
Seafair is a maritime recruitment platform that connects workers and shipping companies based on their background, skills and performance. The solution involves matching algorithms for filling vacant job offers with greater accuracy and time efficiency. Vessel operators also have access to a basic HRMS that helps them consolidate employee data that is often scattered around different databases and spreadsheets.  
Search screen in Sefair
While experienced workers face industry-related difficulties in job search, students and graduates have problems with gaining their first working experience. That is why open job fairs take things to the next level and go digital to supply companies with the most prospective employees. Handshake is a startup that runs professional networking and recruitment of graduates from diverse groups online. 
Handshake user interface
In general, the application works just like a job board or marketplace, but it's particularly aimed at young and ambitious university graduates. In such a way, companies get the most enthusiastic and determined workers, while graduates get their first job.  
However, many recruitment platforms go for big rocks and intend to connect millions of applicants, companies, and recruitment agencies. The idea is as old as the hills, but new features that expand hiring and job search experiences is the breath of fresh air. 
Talent.com is an on-point example of how a large job search platform can nail the competition by extending functionality. Aside from finding a job, the solution offers applicants to predict the average salary they can expect, calculate possible tax deductions, and get career development advice.
In addition, the platform will recommend a necessary course or educational program available, if an applicant didn't get the job because of lacking skills or experience.  
Talent.com landing page
Social talent acquisition
LinkedIn is believed to be yet the most powerful social networking platform for job search. Does it mean that other solutions cannot harvest profits in a similar way? 
The founders of Hire Rabbit would confidently say "no". Hire Rabbit is a software-as-a-service solution that helps to create customizable job sites by pulling data from Facebook Pages. The system enables businesses to create a custom job and culture tab on their Facebook profile, so the relatable data and Facebook analytics can be automatically synchronized with the company's other hiring tools. 
Custom tab in a Facebook profile by Hire Rabbit
Also, the HireRabbit platform pays attention to keeping Facebook-based job sites updated automatically. The solution integrates with such applicant tracking systems as Taleo and Kenexa to send jobs postings directly to Facebook. As soon as a post is on Facebook, visitors can like and share it through other social media too.
Candidate relationship management
Candidate relationship management works in a way similar to customer relationship management, but a company searches for job applicants instead. Unlike ATS, candidate relationship management solutions target a wider pool of potential employees from actual job applicants to those who just showed some interest in a company's job positions.
Consequently, such solutions open access to a bigger database of talents, so companies can plan their hiring strategy with better precision by predicting what kind of candidates they can get and how many applicants are motivated to become a part of the team.
Beamery is one of the relevant examples, which uses artificial intelligence and analytics to make talent sourcing more diverse, so that representatives of minorities and vulnerable populations have equitable opportunities to get a job while companies can significantly improve their diversity strategy.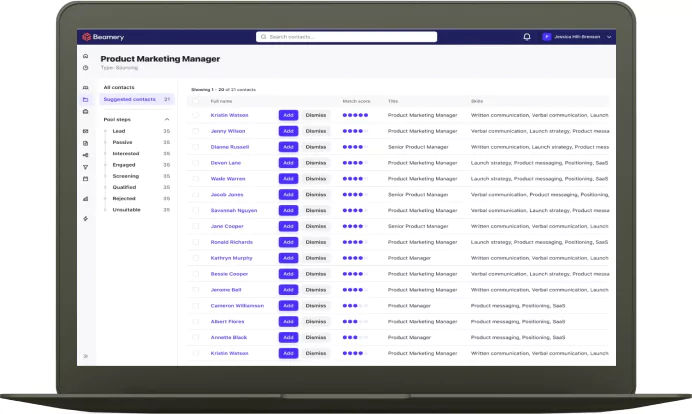 List of contacts in Beamery
Interviewing
As soon as companies manage to select people they think will fit the job requirements, it's necessary to interview them. Candidate interviews is another big domain of recruitment where many hiccups can happen: employer's bias about an applicant, asking unclear and inappropriate questions, and no feedback when a candidate is rejected. Therefore, solutions for interviewing job seekers remotely is another type of HR recruiting software that is worth your attention.  
Video interviews
Online job interviews is another big trend that grew as a result of the global pandemic and popularity of outsourcing. Such solutions can be just a video conferencing tool, but many video interview products usually include smart data analytics to advise employers on the best candidates to pick.  
Still, many solutions try to be unique by targeting a specific group of job applicants or approaching the interview process from an unusual angle. Personalized video at scale is one of the ways that are gaining foothold today, so many relatable startups emerge each day.
For example, Landed is a video interview software solution for hiring staff in the hospitality sector. This industry historically experiences a high rate of staff turnover, which is why hotel and restaurant owners need a tool for selecting candidates that will match their requirements best. 
How job search with Landed looks like
Landed enables employers to record short videos, in which they need to tell about themselves in a few words instead of just sharing their work experience. Applicants can play back and re-record their video responses a couple of times before the submission. As soon as a video is submitted, the app creates a transcript with tags, so recruiters can sort out invalid responses. 
Additionally, Landed provides AI-based analytics to help recruiters make a decision. This approach helps recruiters understand whether the person they would like to hire has necessary soft skills and won't leave a job position any time soon. 
We've noted that video interview software for recruitment is one of the largest submarkets, so it's hard to believe that all products are similar to each other, while little differences are not that significant. Luckily enough, it's not true. 
Just take a Swyg, a peer-interviewing platform, where job applicants can interview each other. The founders strongly believe that relying on the judgment of one or even a couple of recruiters is a big problem for the hiring process. But who can provide an adequate and expert opinion about a potential candidate's skills? That's people from the same industry, who know all the subtleties of the job they do well enough. 
That's why Swyg puts job candidates through a process of interviewing and leaving feedback to each other. Each candidate gains score points given by every peer applicant. This score is taken into consideration by the recruiter, and artificial intelligence  corrects it, in case some suspiciously high or low scores are detected.
In such a way, recruiters rely on a collective opinion about a particular applicant, while job seekers have an opportunity to better understand what recruiters expect to hear at a job interview. 
How Swyg works
Chatbots
Smart chatbots are a good alternative to video interviews, since the principle of applicant interview is the same. A job seeker answers various questions asked by a chatbot, and AI analytics processes the replies to understand whether the applicant is eligible for employment. CEIPAL is the most popular solution in this category, which is also linked to the other recruitment instruments such as ATS, diversity analytics, and human resource management platform. 
CEIPAL data analytics
Onboarding
When a company has hired a desired candidate, it's important to onboard them, so a newly recruited worker can start doing their job, easily integrate with a corporate culture, and get to know their colleagues.
However, onboarding new  workers, especially remote ones, gets clumsy quite often. Unstructured training information as well as a lack of instruments that can help a worker effortlessly immerse in a new working environment are the main problems hiring management software for employee onboarding is called to solve. 
Process optimization
Since onboarding can be a really painful and unorganized process, its optimization is what relatable recruitment software aims at. Tango can be provided as an example here. This product is a Google Chrome extension that auto-captures workplace best practices, so new workers can learn from a company's top employees. 
Tutorial generated by Tango
The solution is designed to aid employees, especially in terms of customer access and sales management. Tango creates tutorials by recording an employee's workflows — actions, links to pages, URLs, and screenshots – and then converts them into a step-by-step guide and video lesson. These tutorials enable employees to save more than 20% of their working time they spent on searching for information about how a particular workplace task should be done. 
Remote staff support
Providing remote employees with the required hardware is extremely challenging, since employees are located in a different city (or even a country) and trusting the delivery of costly equipment to FedEx might not be the greatest idea.
It's possible to ask the staff to use their own devices, but it's not something that would make them say  "Wow". Instead, supply channels that support remote workers by delivering the necessary hardware are a new word in this segment of staff onboarding software.  
Firstbase is a startup that earns money by charging businesses for delivering workplace hardware and other office peripherals to their remote employees. This approach significantly reduces the loads on supply chains and partially addresses the problem of hardware shortage that was particularly severe within the first wave of the coronavirus pandemic. This trend is relatively new, but is definitely here to stay, as more and more companies consider sticking to the remote mode once the pandemic is over. 
Firstbase inventory screen
Summing everything up
Even though recruitment software wasn't invented yesterday, the industry has a lot to offer today. The modern recruiting programs necessarily involve such innovative technologies as AI analytics, talent rediscovery, and blind hiring to make the hiring process fast, cost-efficient, and equitable. 
The hiring industry blossoms as never, so building a relatable product fast enough without compromising its quality is another quest businesses should dare to take. 
However, you can outsource development of your hiring management software to JatApp. Our company can develop any HR and recruitment software: from a plain job marketplace to an intelligence applicant tracking system.
. We are proud to say that 99% of our clients are satisfied with the solutions we deliver, so you can be sure that we provide you with a product that meets your business needs. 
If you're interested in developing your recruiting software with us, don't hesitate to leave your contact information. We'll reach out to you as soon as possible.