Can you remember how people lose their reason on the Black Friday? A person can buy a huge package of dog food even though they don't have one. Just because it's so cheap!  
Same thing seems to be with IT outsourcing services. Almost 70% of businesses outsource their IT projects overseas to cut costs, but aren't there any other advantages? It's nice to have the same solution developed for a better price, but we can tell you for sure — the list doesn't end there. 
Today, we'd like to bust a myth that IT outsourcing offers exclusively cost reduction. Here at JatApp, we believe that innovation, opportunity to learn and transform, fast project delivery, and many other advantages are the main reasons why outsourcing your IT project is a reasonable idea today and would like to prove it with seven examples from various industries.
It's not just about money, or what else software development outsourcing offers
Cutting costs is a good thing for any business, but it's not enough to prosper, especially in today's disruptive environment. For that reason, companies need to seek outsourcing not only for saving money, but also for gaining benefits that can help them survive during the times of economic uncertainty. Here are the main reasons to opt for IT outsourcing today: 
Reduced risk
Businesses are forced to adopt tech solutions to keep competing, but the lack of tech talent is a problem, so it's one more reason why companies prefer software development outsourcing to hiring in-house teams. If you're not convinced, just look at the numbers: 85 million IT jobs can go unfilled by 2030, while corporate IT budgets have grown by 13.5% in 2020. 
In such a way, businesses try to sit on two chairs at the same time: develop new digital solutions and find those who can do this well and on the budget. This situation places companies in a difficult situation, as they don't want to risk the success of their digitalization by hiring a team that isn't confident in their software development craft. 
That's the reason why many companies choose IT outsourcing services. Third-party vendors offer assistance of competent and experienced tech professionals. For that same reason, our client reached out to JatApp to get help with development of an application for plant recognition and care guidance. 
The customer wanted to build an application that offers a more convenient and simpler user experience than similar products. The client didn't have relevant expertise in native mobile development as well as user interface/experience design, while the minimal viable product (MVP) was expected to be of superior quality. We helped developing the app for plant identification that includes such features as plant recognition, lunar calendar, plant care guidance, and online expert tips.
The company's product manager was satisfied with the way JatApp did the job, so he said: "They deal with the project as if it was their own. It impresses us". 
The app identifies plants with 100% accuracy
Security
Data and network security have always been an issue, but with the COVID-19 and shift to remote working, more processes became digital and therefore more vulnerable to hacker attacks. Outsourcing agencies have been dealing with remote work for decades, so it's no wonder that in 2021, 83% of IT leaders decide to use IT outsourcing services for their security solutions, even though they have relatable teams in-house. 
Except for having a profound experience in data security in terms of remote work, software development outsourcing agencies have enough cybersecurity tools in their pocket to address clients' concerns. For example, a SaaS solutions developer needed to create its own payment gateway, so that their customers can securely pay for the company's products and services. Since the company was looking for a team, who can develop a PCI DSS compliant solution, they asked JatApp for help. 
Our team is certified to develop software that follows PCI DSS compliance, so we were able to build a highly secure fintech solution with integrated fraud detection tools and a cascading payment feature. 
This product protects the company from unwanted chargebacks when a fraudster illegally tries to withdraw their money after a transaction. The solution validates all chargeback requests with the bank and merchant, so that such fraud operations are much harder to run unnoticed.   
Even though it looks quite plain now, a complicated job was done behind the scenes
Fast delivery
Competition is extremely fierce today, so companies need to be proactive and deliver their products to market before the rivals do. In fact, 41% of companies seek technology adoption to improve business processes, and having an app developed faster than competitors could imagine is what every single business dreams of today. 
IT outsourcing companies cope with such a challenge. They offer businesses to hire a dedicated development team as the main outsourcing model. The outsourced development team works solely on the client's project, thereby speeding up the product delivery. 
Our client, a French startup, needed to develop an autonomous platform for powerbank rental. The company faced a problem with hardware delivery because of the pandemic, so the JatApp team developed a digital emulator to test the solution, thereby reducing time to market release.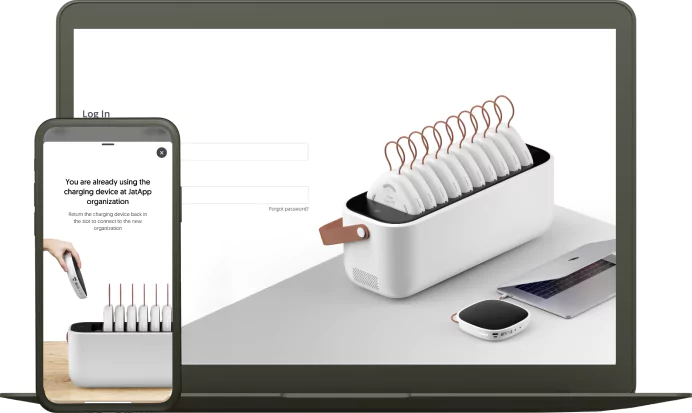 As a result, the customer was satisfied, as the company's CTO confirmed: "Right now the whole project is finished and successfully functions. JatApp still helps us with development of small additional features and, of course, with the support of the product".
Innovation and infrastructure
Aside from a need for tech talent, various businesses need relatable infrastructure and innovation to implement their digital solutions. The matter is that any business has to deal with digital technologies today, and the global interconnection index volume will grow by 44% in 2024. This trend simply means that a rare company will be able to run its operations successfully without having a robust digital infrastructure. 
Implementation of digital infrastructure is a costly and complicated process, which is why businesses search for opportunities to delegate this challenging task to those who have all required resources at hand and can share their expertise. Needless to say, vetted IT outsourcing agencies are particularly popular as the global market of research and development outsourcing is expected to grow by 8% in 2023.
A case of a platform for monitoring electric vehicle charging stations is an on-point example here. JatApp's client already had a software solution developed by their in-house team, but they needed a web version for admins, companies renting charging stations, and electric vehicle users. Still, the solution's integration with the network of charging stations was the main challenge because the whole infrastructure should work securely and seamlessly. 
Our team prototyped and then implemented the integration by using an international protocol OCPP 2.0 that is used for ensuring a stable interaction between admin software and connected charging stations. By having this job done, JatApp enabled the client to use its charging stations infrastructure more effectively: remote diagnostics, real-time problem reporting, and access to data analytics became the key features. 
The entire infrastructure depends on a proper use of protocols and standards
Opportunity to learn and transform
Not only businesses have to deal with a serious talent shortage, but upskilling of the in-house personnel is also needed like air. Actually, TechRepublic reports that 57% of businesses are facing a profound skills gap, and 72% consider upskilling as an important direction to take in the shortcoming future. 
That is why many companies tend to learn while they cooperate with their software development outsourcing partners. For instance, our client from Denmark needed to update and refactor their employee surveying system, but they lacked knowledge how to do this properly. The JatApp team worked on refactoring of the employee engagement app, while the client's in-house team could learn how to keep the solution up-to-date and what structural mistakes were in the app's code. 
One of the screens in the employee engagement app
However, learning is just the first step towards digital transformation. By 2025, the global spending on digital transformation will be $2.8 trillion, so you won't argue that companies adopt technologies with a fierce determination. 
Global IT outsourcing budgets
This trend means that a fast digitalization of your company gives you an upper hand in market rivalry. To have such a competitive advantage, companies outsource digital transformation processes to IT vendors to scale their business.   
For example, Brandon Learning Centre could not miss an opportunity to engage in digital transformation and aimed at expanding its business. The owner contacted JatApp to ask for help with the development of PreQuest, an online learning platform for school children who are preparing to pass the entrance pretest in top UK schools. 
Our team built an easy-to-use and engaging solution that soon delivered its results. 100% of young users received at least one invitation to the interview in the UK school. With the help of JatApp, Brandon Learning Centre managed to expand its business to families who can't attend physical classes due to location or inability to afford traditional education. 
Fun and engaging user interface in PreQuest
Stress avoidance
Feeling worried about how your business is doing isn't surprising. Nevertheless, you still need to make your business grow and adopt digital solutions to survive. We won't provide any statistics here, as feeling concerned about the future of business is what every sane business person experiences from time to time, and no proof is really needed. 
Instead of spending money on a psychologist, many business owners seek support by IT outsourcing agencies. Outsourcing some of the tasks is a good way to keep yourself cool, calm, and collected while you know that top professionals are taking care of your tech project. 
 As an example, Cunio, a property management platform, was in the process of scaling its business, but it had to build a microservice architecture to make the updated system work properly. That's why they hired JatApp's backend developers and project manager to work on this part of the solution. While Cunio's in-house team was developing new features, our tech specialists created the architecture necessary for rolling out the large update.  
Erik Bosca, the founder and CEO of the company was confident that the company would grow as planned. He said :"I can admit JatApp's structured way of work and being patient in moments when we were not 100% clear about our requirements. There was always a solution." 
Focus on your idea
Success in business is often associated with a clear vision rather than having a Master's in Business Administration diploma. Still, going against all odds is justifiable only when you have a unique business idea which you support by your every action. 
With this being said, you still may lack resources and stamina to handle everything on your own, so your focus will be lost very soon. Staying concentrated on your business idea is an advantage that many companies overlook when they are considering IT outsourcing services. 
By contrast, companies that get inspired by a profound technical and talent support of IT outsourcing vendors, make their business dreams come true. As an example, a case of 2BeAdventurous can be provided. 
Our client is a travel enthusiast from the United Kingdom, who wanted to advance his and users' travel experiences with a travel app and build a community of adventurers who like traveling and sharing their impressions with others. 
The client had to put his business idea on hold, even though we already had a discovery stage successfully completed. In the year and a half, the customer returned, and we developed an MVP that was still up to the client's expectations, even though the business environments changed dramatically since our previous contact. 
The product is not long on the market, but Jonny Dean-Hastie, the owner, noted: "The app is now in its initial launch stages and all the feedback we're getting is incredibly positive".  
The myth is busted, and now it's time to choose an IT outsourcing partner
The cases discussed in the article prove that IT outsourcing is really beneficial not only thanks to cost reduction, but due to a number of reasons. By choosing to outsource, businesses can gain access to learning, transformation, security, and so on. Moreover, our cases show that businesses from various industries and of different sizes can enjoy benefits of outsourcing. 
It's only several examples, but in fact JatApp managed to complete more than 200 projects for customers all over the world, and 99% of them were satisfied with our work.  Your project can become the next happy club member. So, get in touch with us. We'll be glad to listen to your business idea and help you implement it.