Connecting directly with owners sounds tempting for all those who've tried to rent an Airbnb apartment at least once in their lives . Instead of paying quite a sum to inns and hotels, you can cut down your expenses, as there are no large players or an army of corporate workers providing you with a service. 
In fact, this model has been trending not only in the hospitality industry, but in the power sector, too. Peer to peer (P2P) energy trading is an Airbnb in the world of energy. It refers to a solution that lets consumers skip the central authority and buy electricity from prosumers (people who both generate and consume energy) at the price the latter have set. Welcome to the future of energy trading.
In this blog post, we'd like to share our knowledge about electricity trading that we've accumulated during 7 years of building software for the energy industry. The JatApp team will shed some light on what P2P energy trading is and why it's on the rise, as well as talk about successful solutions, relevant technical and compliance requirements.  
What is peer to peer (P2P) energy trading?
Something odd is happening between neighbors these days. They meet each other not only to share Friday night meals, but also to exchange some energy. If your first thought is that they're having romantic chemistry, you got the wrong idea. What we mean here is that they are buying and selling electricity via a mini-grid setup – having a love affair is up to them.
P2P energy trading refers to a business model that serves as a sort of a marketplace where prosumers and consumers connect with each other to trade electricity, cutting out intermediaries. Local distributed electricity generators and consumers usually pay a monthly subscription fee to become members of an energy trading platform. Similarly to an open market, prosumers try to set the highest possible price, taking into account their expenses and profit, while consumers look for the lowest price, based on their personal preferences and needs. In fact, solar energy trading, for instance, can occur not only among neighbors, but between larger communities as well. 
While traditional power supply presupposes that consumers buy energy from retailers or utilities through time-of-use or fixed tariffs, the P2P electricity trading model means that prosumers can sell excessive energy back to the grid at a so-called "buy-back rate". More specifically, consumer tariffs for energy supply are typically higher compared to the buy-back rates that prosumers enjoy when selling electricity to the retailers. 
But it's worth noting that the number of platform members matters in this case. Such solutions are effective only when there are enough people willing to trade energy with each other. 
Five hottest
energy trading solutions
P2P electricity trading is here to stay in the next few years, and many companies decided to capitalize on this by bringing different types of technologies. Some businesses focus on local mini-grid set-ups, while others strive to innovate with cutting-edge platforms. Below you will find examples of software solutions that make energy trading easy like Sunday morning. 
Piclo
Piclo is a marketplace based in the United Kingdom that helps consumers and prosumers "meet" every half an hour. The platform members can choose their trading partners based on their location and preferences. The software solution provides consumers with energy use data visualizations and prosumers with transparency regarding who purchases from them. This technology also allows to balance the valleys and peaks in electricity generation, offer contracts, and perform the billing. 
Piclo app functionality
Transactive Grid
Another energy trading solution, Transactive Grid, offers a user a pair of computers integrated with the solar panels to count how many electrons are produced. Then, this data is transmitted to a blockchain, so that there's absolutely no need to deal with the state authorities directly. First used to support bitcoins, the blockchain epitomizes an effective way to cryptographically secure transactions. The list of these transactions is constantly updated and stored on each computer within the system, helping to fight the fraud. 
How Transactive Grid works
SOLshare
Solshare is a Bangladesh-based company that lets clients install mini-grids to trade energy within their neighborhood. Prosumers that have solar panels placed on the roofs of their homes can provide excessive energy to those who don't have access to power. By delivering a mini-grid setup, the company makes sure that local households have a consistent energy network. 
The technology manages energy flows with the help of bidirectional metering. Each meter allows platform members to purchase and sell renewable energy, thereby connecting with local businesses, households, and rural industries. Solshare makes a huge difference in the lives of rural Bangladeshi people. Some of them are now able to make additional profit by selling extra energy, while others have gained access to power for the first time. 
How SolShare works
Lumenaza
By contrast, Lumenaza, a Software as a Service (SaaS) energy trading platform, enables electricity sharing not only on a local, but regional and national levels, too. The solution helps prosumers find their consumers, provides energy flow visualization, ensures advanced billing, and controls demand and supply. One of the prominent features is a product catalog. This functionality lets users  choose different energy products based on their characteristics.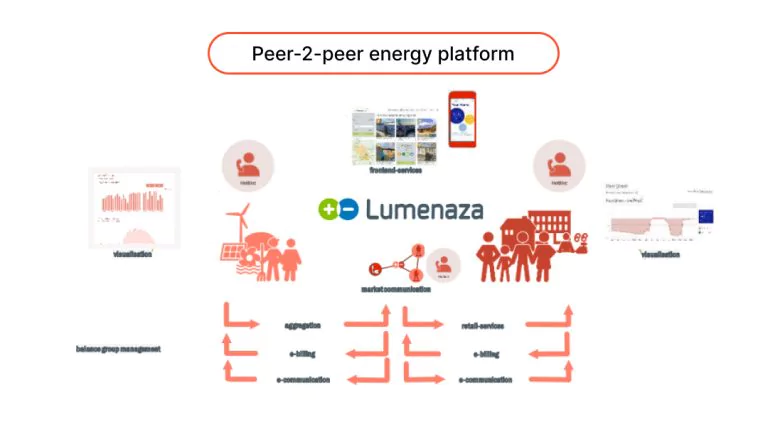 How Lumenaza works
Vandebron
Vandebron is a company from the Netherlands that also enables consumers to buy electricity from prosumers without intermediaries. What makes this solution unique is that it offers prosumers with power generation forecasting data, so that they could plan their energy trading with more certainty. Vandebron charges platform members $12 on a monthly basis. 
Vendebron app functionality
Key
benefits of peer-to-peer energy trading
One of the major advantages of P2P energy trading is reduced price for renewables, which, hopefully, will help the world to become carbon-free one day. Let's talk about such a benefit in a bit more detail and cover other important pros that might not be obvious at the very first glance. 
Making renewable energy acce
ssible
When Russia invaded Ukraine in 2022, the price of natural gas became record-high, forcing the European countries to think of all possible ways to decrease their power dependence from the aggressor. Renewable energy trading platforms offer users a place where they can buy electricity at a better price. This would allow a larger population to painlessly shift to a green alternative to fossil fuels. 
What's more, such solutions enable consumers to support their local communities by letting them earn from electricity generation, whether they have storage systems or not. Prosumers can sell extra power at a price that is higher than the retailer would offer them. As energy no longer needs to be transported from power plants, electricity costs go down. 
Offering consumers and prosumers choice
Consumers can now choose an energy generator to buy energy from. For example, they can opt to buy electricity from a specific project they would like to support. At the same time, P2P platforms allow prosumers to set preferences for the distribution of power they generate. In such a way, one homeowner might want to sell extra electricity to gain maximum profit, while another could be willing to donate a certain amount of electricity to the low-income households in their neighborhood. 
Improved congestion management
P2P electricity trading solutions help to constantly align supply and demand of electricity. The given model can reduce the peak demand while also addressing grid congestion, as prosumers can always sell the surplus of power to their neighbors at a reasonable price. In fact, the amount of electricity traded back to the grid is relatively small compared to the amount of energy sold to the community. This shows the improved use of distributed energy sources thanks to this business model. 
Better access for consumers in mini-grids
When talking about mini-grids, it's not rare that users generate energy through solar home systems. However, there's one problem with this —those systems usually can't store the power excess. P2P trading can improve power access of consumers by linking households with energy supply to those without it. 
P2P trading with mini-grids
What's needed on a technical side?
To create even the most basic P2P trading platform, you'll need both hardware and software. The challenge is to make them marry each other and live happily ever after through communication and appreciation protocols. Let's take a closer look at technical requirements. 
Hardware
Virtual layer

: Information and communication technology network to support communication between users, address payments, and ensure monitoring. 

Physical layer

:

smart grids

, such as micro-, mini-, nanogrids, as well as

smart meters

that allow users to track real-time energy generation. 
Software
P2P

power trading platform

Advanced energy demand and supply forecasting

The blockchain technology or algorithms for implementation of P2P transactions

Data analytics tool
Communication protocols
Common communication protocol for connection between

electricity network

/market/system/platform operators, prosumers, and consumers. 
What compliance regulations to keep in mind?
To regulate P2P energy trading, the European Commission introduced EU Directive 2018/2001 of 11 December 2018 as part of the Clean Energy Package of legislation. The regulation defines P2P as the trade of renewables between electricity market participants through a contract of set conditions determining the settlement and automated implementation of transactions. Renewable self-consumers must not be charged with disproportionate fees and taxes, including the situation when prosumers reside in the same building. Meanwhile, it's necessary to differentiate between jointly acting renewable energy self-consumers and individual renewables self-consumers. 
Moreover, in the United States, P2P trading is performed through microgrids only, cutting out the main grid infrastructure. This restriction prevents widespread implementation of many P2P projects across the country. 
Help energy peers connect with each other 
Despite certain regulatory challenges in such countries as the US, most people are getting pretty much tired of utility companies and want to become more autonomous in electricity trading. P2P trading is changing how we produce and consume renewable energy, allowing users trade power, skipping any intermediaries. This in turn helps to make renewables more accessible to a larger population and therefore getting the world closer to the carbon-free future.
JatApp can provide you with technical expertise to help you create a great P2P energy trading platform. Today, we have over 200 projects behind our backs, and many of them are solutions for the energy sector. We get used to seeing our customers happy with our services. They not only show a 99% satisfaction rate but also want to keep working with us for 3 years on average. 
Need help with your project? Don't hesitate to press that contact button to leave us a note.